Oldtimer picture gallery. Motorcycles. BMW-R3.
---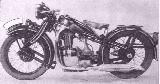 BMW-R3


Year of production: 1936
Overall production: 740 examples
Engine: Type 203/1: overhead valve 11hp/4200rpm, 1-cyl, 4-stroke 305cc
Bore/Stroke: 68/84 mm
Valve mechanisme: by pushrods and rocker
Ignition: generator battery ignition
Dynamo: lightmachine 45/70 Watt, 6 Volt
Ignition timing: by hand
Spark plugs: Bosch W 175 T 1
Engine lubrication system: force-feed circulation oiling
Oilpump: geared oil pump
Carburetors: piston-valve carburetor with air filter
Clutch: single-disc dry clutch
Gearbox: 204/5
Number of front gears: 4
Gearbox ratios: I=1:3,6 II=1:2,18 III=1:1,35 IV=1:1
Shifting: from serie 4 gate change gear, lever on frame
Transmission from gearbox to rearwheel: drive-shaft with spiral bevel gear and flexible disc Hardy
Final drive ratio: 1:5,11 Solo; 1:5,63 side car
Type of frame: 203/1
Frame: rigid pressed steel twin-loop frame, u-profile, pressed steel front fork, U-type
Suspension - front: cantilever spring, 9-plate, friction shock absorber; rear: rigid
Brakes, both front and rear: internal shoe brake
Rims: 26 x 3,5"
Tyres: 3,5 x 26" SS-Tyres
Dimensions: Length: 1980 mm, Width: 850 mm, Height: 950 mm
Unladen weight: 149 kg
Fuel tank capacity: 12,5 l
Engine oil: approx. 1,75 l
Standard fuel consumption: 3 l/100 km
Top speed: 100 km/h
Frame no.: P1001-P1740
Engine no.: 20001-20740
Retail prize: 995,- RM
This page is prepared by Gunter Harms from "Oldtimerfreunde Koenigsbrunn und Umgebung e.V.", Augsburg, Germany.
---
You are welcome to add, ask and correct by E-mail Contact. Andrei Bogomolov.
---
Entrance   Gallery   BMW motorcycles   Sale   Links
---
Last updated 29 I 1999.