Oldtimer picture gallery. Motorcycles. BMW-R23.
---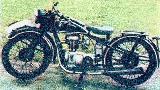 BMW-R23


Years of production: 1938 - 1940
Overall production: 9021 units
Engine: overhead valve 10hp/5400rpm, 1-cyl 4-stroke, 247cc
Bore/Stroke: 68/68 mm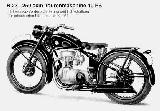 Compression ratio: 6,0:1
Length: 2050mm, width: 820mm, height: 940mm
Wheelbase: ?mm
Cardan
Gearbox: 3 speeds
Weight: 130 kg
Maximal speed: 95 km/h

Tyres: 3,00x19 inches
Fuel tank capacity: 9,6 L
Fuel consumption: 3 L/100km
First 72k image is from Za Rulyom magazine, USSR.
Second 23k picture is from Vintage BMW Motorcycle Owners Ltd..
Third 77k b/w image is from "Internationale Motorrad Typenschau" book by Dr. Ing. Gerhard Seidel.
Some technical data are from "A Motorkerekpar" by Zoltan Ternai, 1958.
Thanks for help to Heinz Hölker, Ohio, USA.
---
If you have to add, ask or correct me, you are welcome to write me by E-mail Contact. Andrei Bogomolov.
---
Entrance   GALLERY   BMW motorcycles   Sale   Links
---
Last updated 25 VII 1998.