Oldtimer picture gallery. Motorcycles. BMW-R12.
---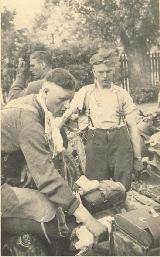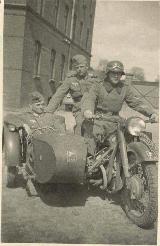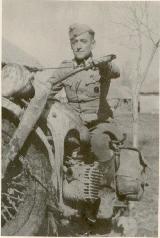 BMW-R12


Years of production: 1935 - 1941
Overall production: about 20000 civilian
+ about 10000 military, total: 36008
Engine: sidevalve 18hp/3400rpm or
20hp/4000rpm, 2-cyl 4-stroke aircooled
boxer-motor 745cc SV
Bore/Stroke: 78/78 mm
Compression ratio: 5,2 : 1
Dimensions (solo):
length: 2100mm, width: 900mm,
height: 940mm, saddle height: 70cm
Dimensions (gespann, with sidecar):
length: 2520mm, width: 1615mm, height: 1000mm
Wheelbase: 1380mm
Rear track (gespann, sidecar version): 1070mm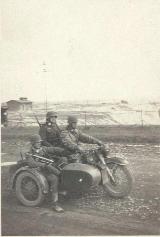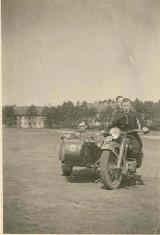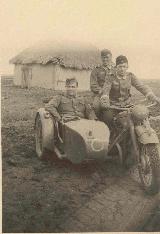 Road clearance (solo): 120mm
Road clearance (sidecar): 245mm
Carburetter: Amal 6/406 SP and
6/407 SP (by other source - Sum)
Starter: 45/70 Watt
Battery: 6 Volt 7 Ah
Clutch: dry single plate
Gearbox: 4-speed
Ratios:
I - 3,18; II - 2,06; III - 1,42, IV - 1,09
Cardan
Transmission ration: solo - 4,07 (14 : 57),
gespann - 4,75 (12 : 57),
heer (military) - 5,18 (11 : 57)
Pressed steel frame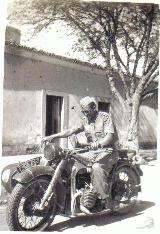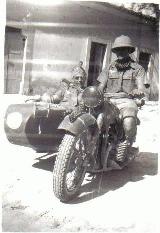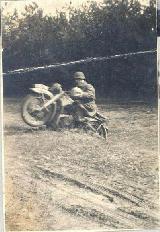 Telescope front fork
Rear wheel without dampers
Foot brake: lever to rear wheel
Hand brake: cable to front wheel
Turning radius: 2,25m (left), 1,8m (right)
Weight (solo): 188 kg
Maximal speed: 125 km/h (civilian);
100 km/h (Wehrmacht solo);
85 km/h (Wehrmacht gespann)
Tyres: 3,50x19 or 4,00x19 inches
Tyre pressures, atm.: front - 1,4
(with sidecar - 1,4); rear - 1,5
(with sidecar - 1,9, for three - 2,3)
Fuel tank capacity: 14 L
Fuel consumption: 4,4 L/100km (civilian); 5,5 L/100km (Wehrmacht solo); 6,5 L/100km (Wehrmacht gespann).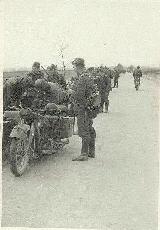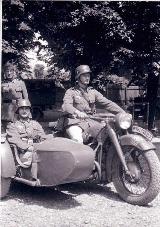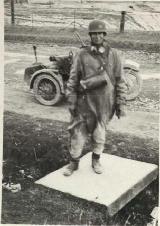 Oil for engine, gearbox and cardan - SAE
40 (Summer), to change after every 2000
km, to change oil filter every 12.000 km.
Water ford depth: 250mm
BMW-R12 is most frequent BMW in
Russia (on my estimation - few hundreds
or even thousand), although R35 (before
1945), R71, R75 and others are also very
popular.

Photos are from:
eBay Deutschland.
Militär Fordons Historiska Föreningen
(Sweden),
Investment Bikes,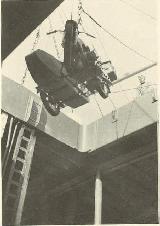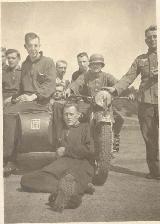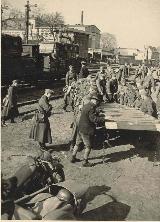 Dmitriy Nikelberg, New York, USA
(1937 civilian R12),
Vintage Imports,
Motorrad Markt magazine, Germany,
Bator International,
www.michaelsmotorcycles.com.
Esko Järvinen, Vammala, Finland (1937
civilian R12 is almost restored by Esko,
the only missing part is air filters. May be
you can help? (24 X 2001)).
Thanks for help to Vladimir Kolotovkin
(Moscow, Club RKKA).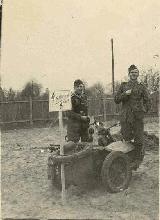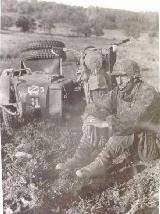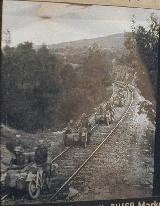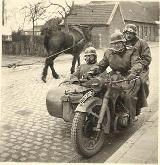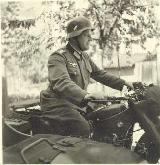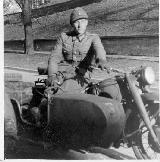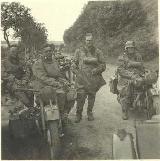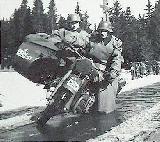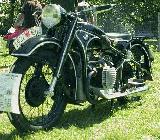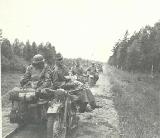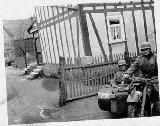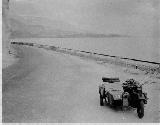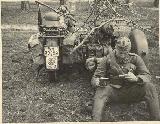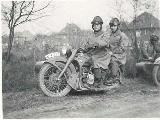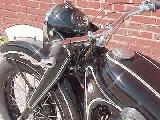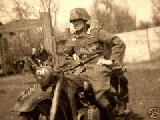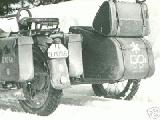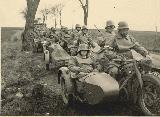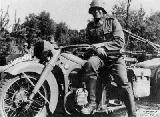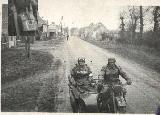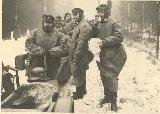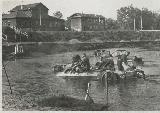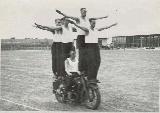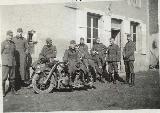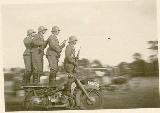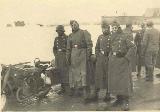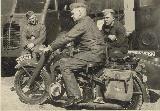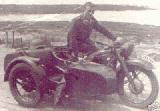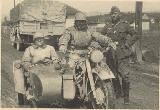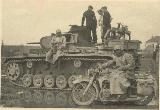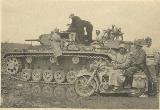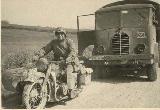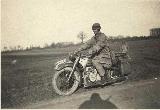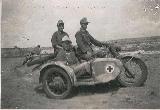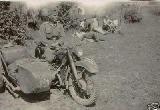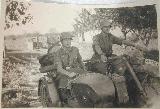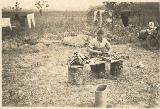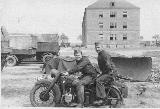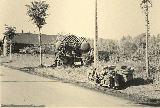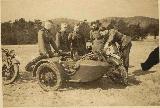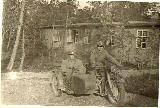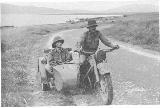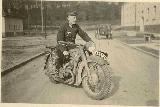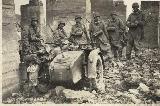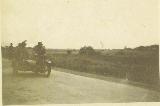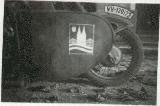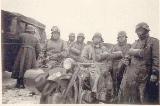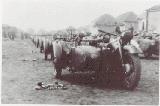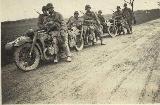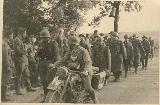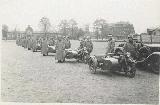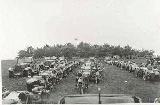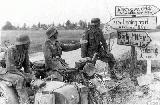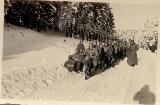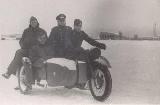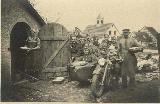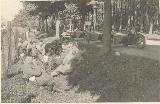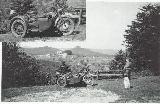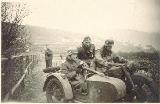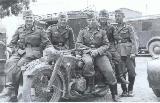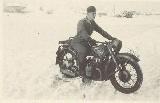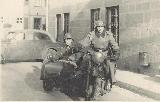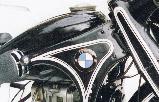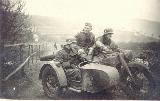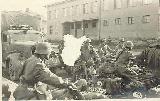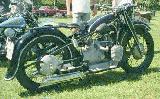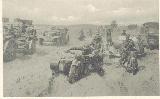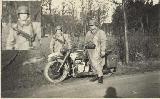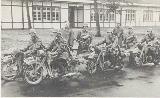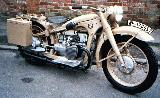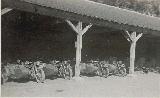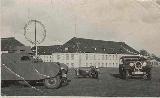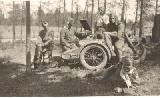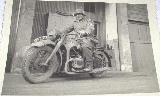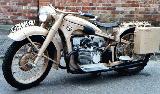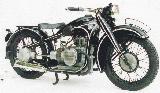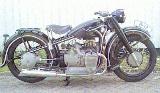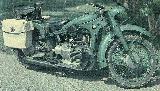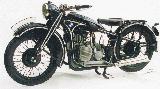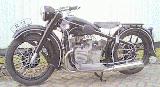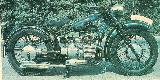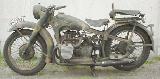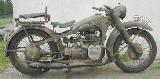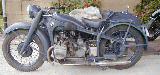 ---
Entrance   Gallery   Motorcycles   BMW   Sale   Links
---
Last updated 28 XI 2004. Andrei Bogomolov. Contact Information.