Oldtimer picture gallery. Cars. Wanderer W11 (3,0 Liter).
---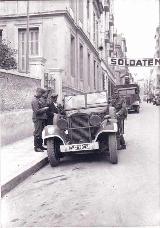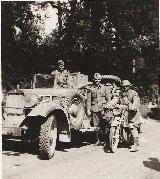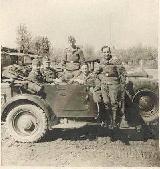 W11/3 (from serial Nr. 26893)


Kraftfahrzeug 12 (Kfz.12) and others
by Wehrmacht classification
Years of production:
1937-1941, continued line of 1933-1936 Wanderer-W11 (2,5 Liter)
Overall production:
2714 units (by many sources, by one
other sourse - 4333)
4x2 4-seater front motor rear wheeldrive military car
Length: 4850mm, width: 1830mm, height: 1960mm
Wheelbase: 3000mm, road clearance: 265mm
Front wheel track: 1420mm; toe-in: ?mm; camber: ?o; caster: ?o
Rear track: 1420mm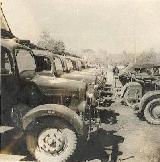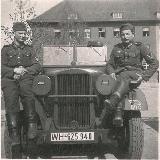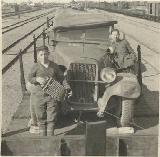 Turning radius: 7m
Engine:
"Wanderer 3 Liter" 60hp/3000rpm, straight 6-cyl. OHV, 2969cc
Bore/Stroke: 75/112 mm
Compression ratio: 5,6 : 1
Carburettor: Solex 35 BFRV
Ignition system: battery 12 Volt,
battery capacity - 45 A*h
Interrupter-distributor type: ?; contact clearance: ? mm
Generator type and power: ?, 90W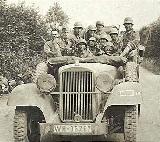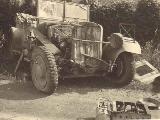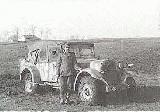 Starter type and power: ?; 1,2hp
Spark plugs type: ?; ?mm;
electrode clearance: ? mm
Cylinder firing order: ?
Water pump cooling
Clutch: dry single plate
Clutch pedal clearance: ?mm
Gearbox: "Prometheus AGN 8", 4 forward 1 back, without synchronization
Ratios: I - 4,52; II - 2,61; III - 1,49; IV - 1,00; rear - ?
Axle gear ratio: 6,11 or 6,125 or 6,143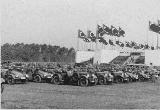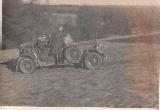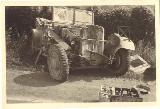 Self-blocking differential
U-profile pressed steel frame
Front suspension: leaf springs
Rear suspension: leaf springs
Steering: Zahnradfabrik-Ross
Hydraulic brakes of all wheels
Hand brakes: by line, on rear wheels
Weight: 1760 kg, gross - 2350kg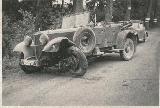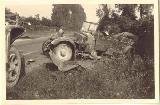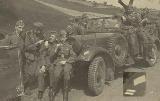 Maximal speed: 85 km/h
Climb: ?o
Ford passing depth: 550mm
Tyres: 6,00-20 inches, offroad
Tyre pressures (atmospheres):
front - ?, rear - ?
Fuel tank capacity: 52 Ltr. (in motor division), since serial Nr. 29874 - 70 Ltr. (in the rear)
Fuel consumption (highway): 17 Ltr./100km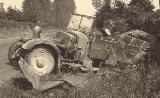 Cooling system capacity: 11,5 Ltr.
Oil carter capacity: engine - 10 Ltr.; gearbox - ? L; differential - ? L
Wanderer W11 (3,0 Liter) outside difference from Wanderer-W11 (2,5 Liter) is in simplified form of the wings and in the doors instead of door curtains.

Pictures and data are from:
Werner Oswald "Kraftfahrzeuge und Panzer der Reichwehr,Wehrmacht und Bundeswehr", 1982, Motorbuch Verlag Stuttgart.
eBay Deutschland.
Bart Vanderveen's book "Historic Military Vehicles Directory", "After the Battle" publication, 1989.
Reinhard Frank's book "Lastkraftwagen der Wehrmacht", PODZUN-PALLAS, 1992.
Peter Kirchberg, "Bildatlas Auto Union", Berlin, 1987.
Thanks for help to Jan Szatan, Poland (his homepage is very interesting) and
Johan Andersson, Sweden.
---
Entrance   Gallery   Cars   Wanderer   Sale   Links
---
Last updated 5 VI 2005. Andrei Bogomolov. Contact Information.