Oldtimers gallery. Trucks. Ursus A30.
---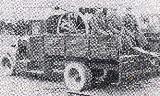 Ursus A30


Years of production: ?-1928 - 1931
Overall production: about 900.
4x2 2,5-ton truck with rear wheel drive.
Body types: cargo, ambulance, firetruck, various, also armoured car and 6x4 derivatives
Engine: own "2A" 45hp/?rpm (early models - 40 and 35 hp), 4-cyl., carburettor, 4-stroke SV, 2873cc
Bore/Stroke: ?/?mm
Compression ratio: ?:1
Legth: 5115mm, width: 2000mm, height: 2500mm
Wheelbase: 3500mm, road clearance: ?mm
Gearbox: 4-speed
Mechanical brakes
Leaf-spring suspension
Weight: ?
Tyre size: 32 x 6 in..
Fuel consumption: ? L/100km
Fuel tank capacity: ? L
Maximal speed: ? km/h
This truck was built under license from Italian SPA, model 25/C.
Photo and data are from:
Bart Vanderveen, "Historic Military Vehicles Directory".
---
You are welcome to add, ask or correct me, my E-mail is Contact. Andrei Bogomolov.
---
Entrance   GALLERY   Trucks   Ursus   Sale   Links
---
Last updated 1 XII 2000.