Oldtimer picture gallery. Motorcycles. Tornax K12.
---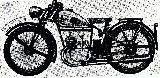 Tornax K12


Years of production: 1939 - ?
Overall production: ?
1-seater
Length: 193cm, width: 74cm, saddle height: 67cm
Wheelbase: 126cm, clearance: 14cm
Engine: Ilo MF 120 K, 3,5hp/4000rpm, 1-cyl., 2-stroke, 120cc
Bore/Stroke: 55/50 mm
Compression ratio: 5,8:1
Ignition: magneto
Spark plug type: ?
Headlight type: ?
Signal horn type: ?
Clutch: ?
Air cooling
Gearbox: ?
Gears ratios: ?
Parallelogram front fork
Steel tubes frame
Chain 7,5-12,0
Brakes: ?
Weight: 86 kg
Maximal speed: 65 km/h
Tyres: 2,50-19 inches
Tyre pressures: front - ?, rear - ?
Fuel tank capacity: 12 L
Fuel consumption: 2,4 L/100km
Data and photo are from the book by Gerhard Seidel "Internationale Motorrad-Typenschau 1928-1944".
Thanks for help to Evgeniy Pevzner, Moscow.
---
If you have to add, ask or correct me, you are welcome to write me by E-mail Contact. Andrei Bogomolov.
---

Entrance   Gallery   Tornax motorcycles   Sale   Links
---
Last updated 5 XII 1999.