Oldtimer picture gallery. Motorcycles. TIZ-AM600.
---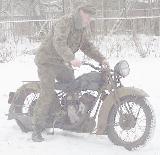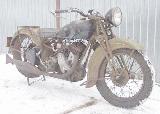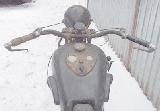 TIZ-AM600 or simply AM-600


Years of production: 1935-1941-1943
Overall production: ? units
Engine: 16hp/3800rpm, 1-cyl, 4-stroke
SV, 595cc
Bore/Stroke: 85/108 mm
Compression ratio: 4,8...5,0 : 1
Clearance between tappet and valve stem intake: 0,15...0,18 mm; exhaust: 0,2...0,25 mm
Spark plugs: 18 mm
Carburettor: MK-17 (of Amal type)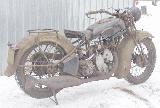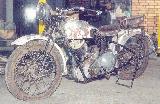 Ignition: magdino MD-1
Battery: 6V3MT-16
Transmission: chain
Length: ?mm, width: ?mm,
saddle height: 700mm
Wheelbase: 1420mm
Road clearance: 125mm
Gearbox: separate, 4-speed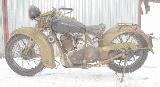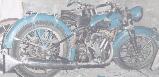 Weight: 185 kg (dry), 205 kg (ready to go)
Maximal speed: 95 km/h (solo), minimal - 13 km/h
Tyres: 4x19 inches
Tyre pressures (bar): front - 1,5, rear - 2,0
Fuel capacity: 17 L
Fuel consumption: 5,7 L/100km
Photos are from:
Vladimir Kolotovkin (Moscow, Club RKKA, VARS), owner of this very original green TIZ-AM600.
Maksim Cherman (Mariupol, Donetsk region, Ukraine).
Owner of the left motorcycle in 2nd row is Yuri Polyak (Chicago, Illinois, USA). The motorcycle is in restoration in Cherkassy Restoration Centre (Andrei Ruban), Ukraine.
---
You are welcome to write me by E-mail Contact. Andrei Bogomolov.
---

Entrance   Gallery   Motorcycles   TIZ   Sale   Links
---
Last updated 13 I 2002.