Oldtimer gallery. Cars. Tempo Vidal G1200.
---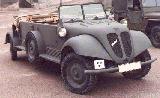 Tempo Vidal G1200


Years of production: 1936 - 1939 (- 1941?)
Overall production: hardly exceeded 20 units
4x4 4-seat military car with 4-wheel steering and 2 Ilo engines, one for front- and one for rear axle
2 Engines Ilo - 2 x 19hp/3600rpm, liquid cooling straight 2-cyl 2-stroke, 594cc
Length: ?mm, width: ?mm, height: ?mm
Wheelbase: ?mm, road clearance: ?mm

Frame: backbone tube
Front wheel track: ?mm; toe-in: ?mm; camber: ?o; caster: ?o
Rear track: ?mm
Turning radius: ?m (2-wheel steering), ?m (4-wheel steering)
Bore/Stroke: 69/80 mm
Pistons type and material: ?, ?
Cold clearance between tappet and valve stem: intake - ?mm, exhaust - ?mm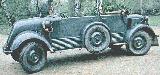 Compression ratio: 5,5 : 1
Carburettor: Solex 26 BFR
Dimensions: diffusor - ?mm; main jet - ?; idling jet - ?mm, starter mechanism jet - ?
Ignition system: ?
Interrupter-distributor type: ?; contact clearance: ? mm
Generator type and power: ?, ?W
Starter type and power: ?; ?hp
Spark plugs type: ?; ?mm; electrode clearance: ? mm
Clutch: dry single plate
Clutch pedal clearance: ?mm
Gearbox: Hermes, 4 speed
Ratios: ?
Transfer box: ?
Axle gear ratio: ? : 1
Front suspension: independent with coil springs
Rear suspension: independent with coil springs
Brakes: Mechanical all-wheel brakes
Normal flexure of ventilator belt: ?mm
Weight: 1160kg
Maximal speed: 68 km/h
Climb: ? degrees
Tyres: ?x? inches
Tyre pressures (atmospheres): front - ?, rear - ?
Fuel tank capacity: ? L
Fuel consumption (for 50 km/h): 9,2 L/100km (with one motor), 12,6 L/100km (with both motors)
Cooling system capacity: ? L
Oil carter capacity: engine - ? L; gearbox - ? L; differential - ? L
Sources of photos:
Jan Szatan, Poland (homepage),
Militär Fordons Historiska Föreningen, Sweden,
"Svet Motoru" magazine, Czechslovakia.
---
If you have anything to add, ask or correct me, you are welcome to write me by E-mail Contact. Andrei Bogomolov.
---
Entrance   Gallery   Cars   Tempo   Sale   Links
---
Last updated 15 X 2000.