Oldtimer picture gallery. Cars. Steyr 50.
---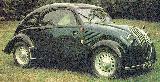 Steyr 50

(data for 4-seater 2-door limousine)
Years of production: 1936-1938
Overall production: ?
Chassis-less body
Engine: Steyr-50 22hp/3600rpm, boxer SV 4-cyl, 4-stroke 984cc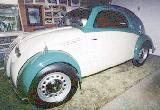 Compression ratio: 5.9:1
Bore/Stroke: 59/90mm
Carburettor: Pallas MP 30 or Solex 30 BFRH
Battery: Bosch, 12V, 40 A*h
Spark plugs type: W 175 T1
Cylinder firing order: 1-3-2-4
Clutch: dry single plate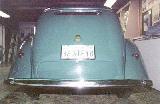 Length: 3610 mm, width: 1518mm, height: 1460mm
Wheelbase: 2350(?)mm
Front wheel track: 1250 mm
Rear track: 1250 mm
Clearance: 175mm
Turning radius: 5.25m
Gearbox: 4 speeds + rear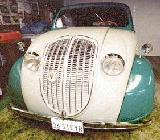 Ratios: I - 4.83, II - 2.98, III - 1.73, IV - 1.00, rear - 6.5
Mechanical brakes on all wheels
Weight: 800 kg
Maximal speed: 85 km/h
Tyres: 4.50x17 inches
Fuel tank capacity: ? L
Fuel consumption: 8 L/100km
First 106k picture of 1937 Steyr-50 is taken from "Svet Motoru" magazine, Czechoslovakia.
Next three images of 1936 Steyr-50 have been kindly shared by Julie Haynes, Southern California, USA.
Thanks a lot for help to Dariusz Piecinski, Lublin, Poland. Find also links to his articles from Link page.
---
If you have to add, ask or correct me, you are welcome to write me by E-mail Contact. Andrei Bogomolov.
---
Entrance   Gallery   Steyr cars   Sale   Links
---
Last updated 29 XI 1998.