Oldtimer picture gallery. Cars. Steyr 220.
---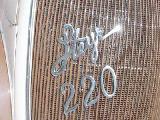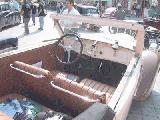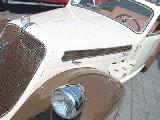 Steyr 220

(data for 2-door cabriolet)
Years of production: 1938-1941
Overall production: ?
4x2, 2-seater Sport Cabriolet, 4-seater
Cabriolet, 4-door pillarless Limousine
Engine: Steyr 220: 55hp/3600rpm, straight 6-cyl OHV, 4-stroke 2260cc
Compression ratio: 6,5 : 1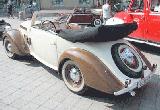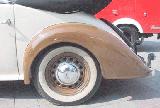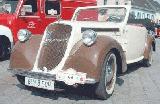 Bore/Stroke: 73/90mm
Carburettor: Solex 35 BFLH
Battery: Bosch, 12V, 60 A*h
Spark plugs type: W 145 T7, 14mm
Cylinder firing order: 1-2-4-6-5-3
Clutch: ?
Length: ? mm, width: ? mm, height: ? mm
Wheelbase: 2840mm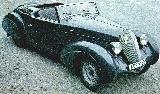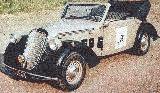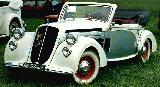 Front wheel track: 1340 mm
Rear track: 1340 mm
Clearance: ? mm
Turning radius: ? m
Gearbox: 4 speeds + rear, synchronized III and IV
Ratios: ?
Independent suspension of both axles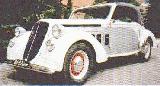 Brakes: hydraulical, type ATE Lockheed
Weight: 1270 kg
Maximal speed: 125 km/h
Tyres: 5,50x17 or 6,00x16 inches
Fuel tank capacity: ? L
Fuel consumption: 11-15 L/100km
Photos are from:
Both 1938 cabriolets Steyr-220 are from "Svet Motoru" magazine, Czechoslovakia.
This Gläser Special Cabriolet belongs to Ivan Sobol from Prague, second is Cabriolet A of Gottfried Schwarz from Austria.
Martin Krusche (Styria, Austria), look at his interesting homepage.
Avtofoto 2005.
Thanks a lot for help to Dariusz Piecinski, Lublin, Poland. Find also links to his articles from Link page.
---
You are welcome to write me by E-mail Contact. Andrei Bogomolov.
---
Entrance   Gallery   Cars   Steyr   Sale   Links
---
Last updated 17 IX 2001.