Oldtimer picture gallery. Trucks. Steyr 270 1500A.
---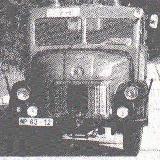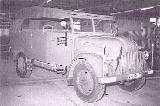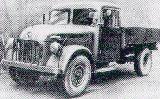 Steyr-270 1500A (A - Allrad Antrieb, all-wheel drive)


Years of production: 1941 - 1944
4x4 1,5-ton truck and modifications
Overall production: 12450 examples (+ about 5600, co-produced in 1943-1944 by Wanderer Werke Siegmar (86k b/w))
Engine: 86hp/3000rpm, V8-cyl overhead-valve (OHV) air-cooled petrol engine, 3517cc
Bore/Stroke: 78/92 mm
Length: 5080mm, width: 2030mm, height: 2320mm
Clearance: 275mm; wheelbase: 3250mm
Gearbox: 4 speeds + 1 back gear
2-speed transfer box with front axle disconnect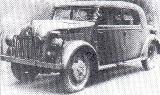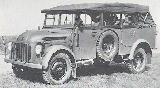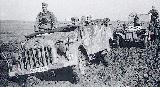 Clutch: dry plate
Electrics: 12 Volt
Brakes: Hydraulic, 4 wheels Rear differential lock
Weight: 2485-2500 kg
Maximal speed: 90 km/h (offroad - 45 km/h)
Tyres: Offroad 190-20 or 7,25-20 inches (or special desert tyres for Africa Corps - 270-16)
Fuel tank capacity: 100 L
Fuel consumption: 24 L/100km (offroad - 36 L/100km)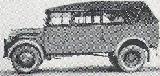 Most numerous were Kfz. 70 Mannschaftswagen (8-seater personnel carrier).
In 1941-1942 Steyr-1500A automobiles had turnable spares in the middle of the body. They disappeared on late versions (1942-1944).
Photos are from:
Werner Oswald's "Kraftfahrzeuge und Panzer der Reichwehr,Wehrmacht und Bundeswehr", 1982, Motorbuch Verlag Stuttgart,
Bart Vanderveen's "Historic Military Vehicles Directory", "After the Battle" publication, 1989,
Reinhard Frank's "Lastkraftwagen Der Wehrmacht", PODZUN-PALLAS, 1992,
Panzermuseum Munster, Germany,
"Oldtimer Markt" magazine, Germany,
Peter Kirchberg's "Bildatlas Auto Union", Berlin, 1987.
---
If you have to add, ask or correct me, you are welcome to write me by E-mail Contact. Andrei Bogomolov.
---

Entrance   GALLERY   STEYR-PUCH trucks   Sale   Links
---
Last updated 21 I 2000.