Oldtimer picture gallery. Cars. Skoda Popular 995 "Liduska" (model 937).
---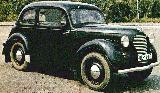 Skoda 937

(Data for Tudor)
Years of production: 1939-1946
Overall production: 1500 units
Body types: Tudor, Dodavka (pickup), Sanitka (ambulance).
Engine: 22hp/3500rpm, 4-cyl, 4-stroke SV, 995cc
Bore/Stroke: 65/75 mm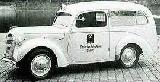 Length: 3800mm, width: 1400mm, height: 1480mm
Wheelbase: ?mm
Carburetter: ?
Gearbox: 3 speeds + rear, synchronized II and III gears
Weight: 730 kg
Mechanical brakes
Maximal speed: 95 km/h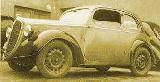 Tyres: ? inches
Fuel tank capacity: ? L
Fuel consumption: 7 - 9 L/100km
Price: ?
Images are from Skoda Auto official site and "Svet Motoru" magazine, Czechoslovakia.
---
If you have to add, ask or correct me, you are welcome to write me by E-mail Contact. Andrei Bogomolov.
---
Entrance   GALLERY   Skoda cars   Sale   Links
---
Last updated 28 VI 1999.