Oldtimer picture gallery. Motorcycles. Puch-800.
---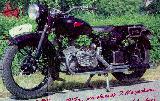 Puch-800


Years of production: 1936-(1938)-?
Overall amount: 550 units
Engine numbers: 75.001-75.550
Engine: 20hp/4000rpm, 4-cyl, 4-stroke 792cc
Bore/Stroke: 60/70 mm
Compression: 5:1
Length: 2180mm, width: 830mm, height: ?1050mm
Wheelbase: 1427mm
Gearbox: 4 speeds
Weight: 195 kg without sidecar
Maximal speed: 95 km/h with sidecar, 125 km/h - solo
Tyres: 4.00-19 inches
Fuel capacity: 17 L, oiltank - 3 L
Fuel consumption: 6.5 L/100km with sidecar, 4.5 L/100km - solo
Price: 3200 Austrian Shillings (with sidecar)
This 74k picture is from "Moto" magazine, Nr.5, Russia. This bike was restored by Ya.Macierovskis (Latvia).
Big part of the data was kindly supplied by Gunter Harms from "Oldtimerfreunde Koenigsbrunn und Umgebung e.V.", Bavaria, Germany.
---
If you have to add, ask or correct me, you are welcome to write me by E-mail Contact. Andrei Bogomolov.
---
Entrance   GALLERY   Puch motorcycles   Sale   Links
---
Last updated 28 I 1999.