Oldtimer picture gallery. Motorcycles. Puch-250 S4.
---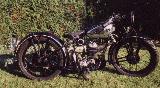 Puch-250 S4


Years of production: 1934-1942
Overall amount: (7600 units before 1938)
Engine: 10.5hp/4100rpm, 1-cyl, double piston 2-stroke 248cc
Engine numbers (some irregular): 80.001-90.000, 120.001-135.250, 136.001-140.000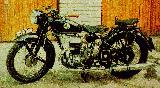 Bore/Stroke: 2x45/78 mm
Compression: 6.2:1
Length: 2000mm, width: 800mm, height: 1000mm
Wheelbase: 1315mm
Gearbox: 4 speeds
Weight: 128 kg
Maximal speed: 110 km/h
Tyres: (3.25, 3.50)x19 inches
Fuel capacity: 13 L
Fuel consumption: 3.1 L/100km, oil - 0.25 L/100km
Price: 1580 Austrian Shillings
Big part of the data was kindly supplied by Gunter Harms, owner of S4 on upper 42k image. He is member of "Oldtimerfreunde Koenigsbrunn und Umgebung e.V.", Bavaria, Germany.
Bottom 70k picture is from "Svet Motoru" magazine, CS, No1, 1984. This bike was restored by Frantisek Uhnavy (Czechoslovakia). Only label on the fuel tank doesn't correspond to the time.
---
Gunter Harms also supplied with very interesting timeline information for Puch-250 S4:
1934: Big PUCH letters on the tank,
1935 red PUCH eagle;
1934. saddle material - leather,
1935: rubber saddle;
to 1937 flat fishtail ended exhaust, then round exhaust with stamped PUCH letters and eagle wings, also fishtail end;
motorno: 80.001-81.600 Bosch headlamp with Veigl speedometer special wish from the customer: roller(cylinder) Veigl speedometer, (by the way, Gunter needs such a speedometer, his headlamp is without a speedometer),
motorno: from 81.601 Siemens headlamp with Veigl roller speedometer,
motorno: from 82.101 Siemens headlamp with smaller Veigl roller speedometer,
motorno. from 82.851 Siemens headlamp with normal Veigl speedometer, counter clockwise;
1938: new bigger fork like 350 GS;
1938: only one toolsbox like 350 GS.
---
If you have to add, ask or correct me, you are welcome to write me by E-mail Contact. Andrei Bogomolov.
---
Entrance   GALLERY   Puch motorcycles   Sale   Links
---
Last updated 28 I 1999.