Oldtimer picture gallery. Cars. Opel-Olympia 13237.
---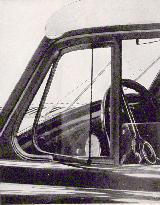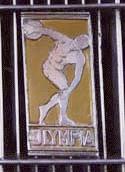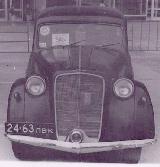 Opel-Olympia (Model 13237)


Years of production: IV 1935 - XII 1937
Overall production: 81661
4x2, 4-seater chassis-less body
Body modifications (prices in Reichsmarks):
2-door 4-light limousine (since XI 1935, body symbol - LZ, 2500 RM) (more often),
4-door 6-light limousine (LV, missing in any Opel literature, but I saw one! Possibly this was mixture of OL38 and 13237),
2-door 4-light cabriolimousine (CL) (more rare than limousines),
Engine: 24hp/3300rpm (1937 - 29hp/3300rpm), 4-cyl 4-stroke SV, 1288cc
Length: 3930mm, width: 1430mm, height: 1540mm
Wheelbase: 2370mm, clearance: 190mm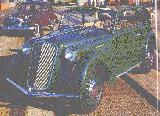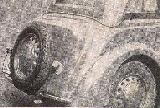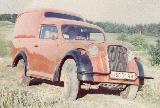 Front wheel track: 1092mm; toe-in: 2.4mm; camber: 0o45'; caster: 12.6mm on special Opel instrument
Rear track: 1168mm
Turning radius: 6.35m
Bore/Stroke: 67.5/90.0 mm
Pistons type: AC, Nelson-Bonalite
Cool clearance between tappet and valve stem: intake - 0.20mm, exhaust - 0.25mm
Compression ratio: 6:1
Carburettor: Opel, downdraft vertical, 2 types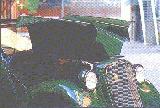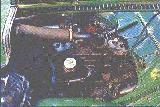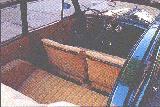 Dimensions (in mm and conditional units):
diffusor - 19/19mm; main jet - 26/26cu;
sprayer jet - 38/38cu; idling jet (sprayer
tube/calibrated hole) - 45/36cu/70/36cu;
accelerator jet - 50/50cu; between float's
top and bottom of float chamber lid -
12/12mm
Air filter: oil bath type (metal shavings, moisturized by oil)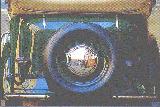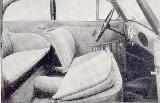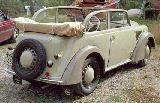 Ignition system: battery (Bosch, 6V), battery capacity - 70 A*h
Interrupter-distributor type: VE4-ALS 207; contact clearance: 0.4 - 0.5 mm
Generator type and power: DE/6AR7; 90W
Starter type and power: CG 0.6/6BRS 37P; 0.6hp Spark plugs type: DM 95/0; 18mm; electrode clearance: 0.7 - 0.8 mm
Cylinder firing order: for engines N:o 1 - 16666: 1-2-4-3, from N:o 16667: 1-3-4-2
Clutch: dry single plate with a spring dampers
Clutch pedal clearance: 25-30mm
Gearbox: engines N:o 1 - 20000: 3-speeds, straight teeth; engines N:o 20001 - 37-1: 3-speeds, oblique teeth; engines N:o 37-2 - the last: 4-speeds (1937 year)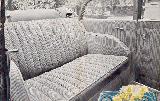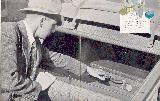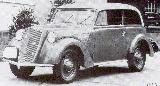 Ratios: I - 3.52/3.52/3.91, II - 1.74/1.69/2.47, III - 1.00/1.00/1.49, IV - no/no/1.00, rear - 4.61/4.60/4.21
Differential ratio: 5.14, bevel gear with spiral tooth
Front suspension: independent, Dubonnet type
Rear suspension: whole axis of Banjo type with longitudinal semielliptical springs
Brakes: 1935-1936 mechanical, Bendix-Duoservo, 1937 - hydraulical all-wheels shoe brakes
Weight: 835kg (since 1937 - 853kg)
Maximal speed: 95 km/h
Tyres: 5.00-16 inches, 1935-1936 - 4-pin wheels without wholes, 1937 - 5-pin "artillery" wheels (with wholes)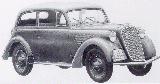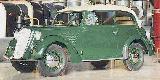 Tyre pressures (atmospheres): front - 1.60, rear - 1.70 or 1.85 (if 4 passengers)
Fuel capacity: 28+5 L
Fuel consumption: 8.8 L/100km
Cooling system capacity: 6.5 L
Oil carter capacity: engine - 3.5 L; gearbox - 0.75(?) L; differential - 0.90 L

Pre-index of chassis and engine No:
Year Chassis Engine Chassis numbers I really met
1935  237-     -    237-7774   
1936  237-     -
1937  237-    37-   237-41813, -62010

Productionnumbers by Eckhart Bartels:

Year    1935   1936   1937  Total 
prod.  19117  37127  25417  81661
Sources of the photos:
http://www.netclassics.com/, thanks for help to Lars Hedström, Stockholm.
"Oldtimer Markt" magazine, Germany.
W.Schmarbeck/B.Fischer "Alle Opel Automobile", 1989, Motorbuch Verlag Stuttgart.
Opel.
Thanks for help to Martin Vorwahl, collector of oldtimer photos, Oldenburg, Germany and
Andrei Shihaev, Moscow.
---
The name "Olympia" originated in 1935 from future Berlin 1936 Olympiade, that is why the label of new model was famous ancient "Discus-thrower" sculpture. This car replaced Opel-1,3 Liter.
13237 - first two digits mean engine capacity in decilitres, the rest - wheelbase in cm.
Names of factory paints (by 1941 Catalog for both Olympias):
Schwarz (black), Marinetiefblau (sea depth blue), Hellsandgrau (light sandish-grey), Dunkelgrau (dark grey), Feldgrau (German khaki, which is more grey, than green), Atlantikgruen (Atlantic green), Mittelblau (middle blue), Dunkelrot (dark red), Opelbeige, Hellgrau (light grey), Mittelgruen (middle green), Graubeige (greyish-beige).
---
You are welcome to write me by E-mail Contact. Andrei Bogomolov.
---

Entrance   GALLERY   Cars   Opel   Sale   Links
---
Last updated 20 XII 2000.