Oldtimer picture gallery. Cars. Opel-4/20 PS.
---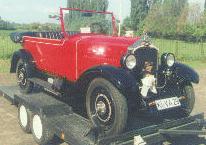 Opel-4/20 PS


Years of production: 1929 - 1931
Overall production: overall 4PS models between May 1924 and June 1931 - 119484 cars.
4x2 4-seater
Engine: 17hp/3100rpm (max. 20hp/3500rpm), 4-cyl, 1018cc
Bore/Stroke: 60/90 mm
Compression ratio: ?
Length: 3450mm, width: 1405mm, height: 1720mm (limousine)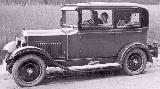 Wheelbase: 2510mm, clearance: ?mm
Front wheel track: 1160mm; rear track: 1175mm
Turning radius: ?m
Carburettor: Zenith
Thermosyphon cooling
Mechanical all-wheels drum brakes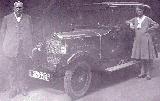 Battery: 6V, 60 A*h
Gearbox: 3 speeds
Weight: 690-870 kg
Maximal speed: 80 km/h
Tyres: 4.50-18 inches
Fuel tank capacity: 28 L
Fuel consumption: 7 L/100km
This page has been created thanks to Reinhard Popp from South-Eastern Bavaria. 2nd and 3rd 1929 photos are from his family album. The little boy looking out of the rear window is Reinhard's father. The girl driving is father's aunt. The older man beside her is Reinhard's great-grandfather.
The first 9k image of tourenwagen has been kindly supplied by Martin Vorwahl, collector of oldtimer photos, Oldenburg, Germany.
---
If you have to add, ask or correct me, you are welcome to write me by E-mail Contact. Andrei Bogomolov.
---
Entrance   Gallery   Opel cars   Sale   Links
---
Last updated 12 IX 1998.