Oldtimer picture gallery. Motorcycles. Nimbus 750.
Fisker og Nielsen, Copenhagen, Danmark.
---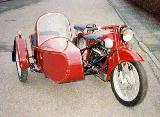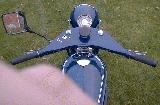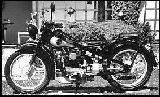 Nimbus 750


Years of production: 1934-1939, ?-1960,
in 1960 they only assembeld parts from
previous years production
Overall production: 12715 all 3 models together
Engine: 22hp(18)/4500rpm, aircooled 4-cyl, 4-stroke OHV, 746cc
(Engine 18 hp was delivered with the standard model,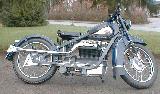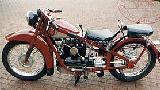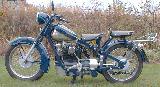 engine 22 hp was delivered with the
special model and the sport model.
The higher yield is due to higher
compression ratio.)
Bore/Stroke: 60/66mm
Compression ratio: 5,4 : 1
Carburettor: Nimbus
Length: 220cm, width: 72,0cm, saddle height: ?cm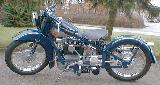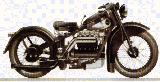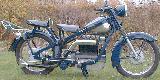 Wheelbase: ? inches
Gearbox: 3 speed
(by another source 4-speed. Mistake?)
Ratios:
solo version I - 9,89; II - 6,39; III - 4,23
sidecar version I - 11.90; II - 7,69; III - 5,12
Weight: 185 kg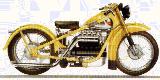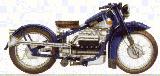 Maximal speed: 120 km/h
Tyres: 19 x 3,5 inches
Fuel tank capacity: 12,5 L
Fuel consumption: between 3,8 L/100km and 5 L/100km
The bike was produced as a solo bike and a sidecar version, and vas only changed a little bit for the whole period.
The manufacturer "Fisker & Nielsen" still exist and today as then produces vacuumcleaners.
Photos are from:
Ernst Kristiansen (Skive, Denmark), owner of this 1955 Nimbus.
Few of these pictures are from the 1939 sales brochure. Few are from friends of Ernst.
(All the data are from Ernst too. Really this page appeared only thanks to him.)
Klassisk Bil & MC,
Motorrad Markt magazine, Germany,
Mobile.de, Germany.
What else in the net:
I.G. Nimbusfreunde Deutschland (in German),
Fyns Nimbus Center (på Dansk, in English),
Danmarks Nimbus Touring (på Dansk),
Aarhuus Nimbus Klub (på Dansk),
Himmerlands Nimbusklub (på Dansk),
Motorcykelklubben Nimbus (på Dansk, in English).

Thanks for help to Poul Korsgaard.
---
You are welcome to write me by E-mail Contact. Andrei Bogomolov.
---
Entrance   Gallery   Motorcycles   Sale   Links
---
Last updated 12 IX 2001.