Oldtimer picture gallery. Motorcycles. ML-3.
SMZ, Serpuhovskoi Motocycletnyi Zavod, Serpuhov, Moscow region, USSR.
---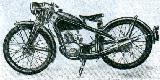 ML-3


Year of production: 1940
Overall amount: ?, only one survived example is known (in Moscow Polytechnical Museum).
Engine: 3.5hp/3500rpm, 1-cyl, 2-stroke 123.7cc (no deflector)
Bore/Stroke: 54/54 mm
Compression ratio: 6.0-6.5:1
Length: 1940mm, width: 650mm, height: 900mm, saddlehight: 680mm
Wheelbase: 1240mm, clearance: 140mm
Gearbox: 3 speeds
Chain
Weight: 74.5 kg (fuelled)
Maximal speed: 68 km/h
Tyres: 2.75x19 inches
Fuel capacity: 8 L
Fuel consumption: 2.5 L/100km under 40 km/h
This 83k image and some data are from "Moto" magazine, 1/1994, Russia, article of my friend Evgeniy Pevzner.
---
If you have to add, ask or correct me, you are welcome to write me by E-mail Contact. Andrei Bogomolov.
---

Entrance   GALLERY   List of motorcycles   Sale   Links
---
Last updated 8 IX 1998.