Oldtimer picture gallery. Cars. Mercedes-Benz 770 W150 Grosser.
---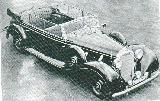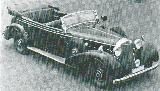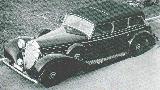 Mercedes-Benz 770 (W150)


Years of production: 1938-1943
Overall production: 88, see Production table
Body modifications (price in RM):
Chassis: 30000 RM, 1 car
Tourenwagen (7-seater): ? RM, 46 cars (few armoured)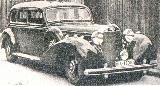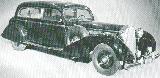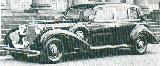 Pullman-Limousine: 44000 RM, 18 cars (about 8 armoured)
4-door Limousine: ? RM, 10 cars (all armoured)
Cabriolet D (4-door, 4-light): 46000 RM, 5 cars (few armoured)
Cabriolet F (Pullman-Cabriolet, 4-door, 6-light, 7/8-seater): 47500 RM, 7 cars (few armoured)
Cabriolet B (2-door, 4-light): ? RM, 1 car (not armoured)
Dimensions (for non-armoured): length : 6000 mm, width: 2070mm, height: 1800mm
Armoured Tourenwagen: length: 6000 mm, width: 2100mm, height: 1900mm




Wheelbase: 3880mm
Engine: Daimler-Benz M 150 155hp/3000rpm (with compressor - 230hp/3200rpm), straight 8-cyl, 4-stroke 7,655cc
Compression ratio: 6,1 : 1
Bore/Stroke: 95/135mm
Clutch: dry single plate
Front wheel track: 1600mm (1630mm - armoured)




Rear track: 1650mm (1680mm - armoured)
Rear axle clearance: 190mm (or 200mm)
Turning radius: 7,5m (armoured - 7,85m)
Gearbox: 5 speed (where 5th speed is overdrive) + rear (II...V - synchronized)
Hydraulical brakes Bosch-Dewandre on all wheels
Weight: 3400-3600 kg; armoured: 4400-4800 kg




Maximal speed: 170 km/h; without kompressor: 145 km/h; armoured cars speed - 80 km/h
Tyres: 8,25-17 inches
Fuel tank capacity: 195 L
Fuel consumption: 30 L/100km (armoured - 40 L/100km)
List of image and data sources:
Almost all b&w images and some data are from Werner Oswald's book "Mercedes-Benz Personenwagen 1886-1986", 1987,




Motorbuch Verlag Stuttgart.
1 image is from Witold Rychter's book "Dzieje samochodu", Warsaw, 1979.
---
If you have to add, ask or correct me, you are welcome to write me by E-mail Contact. Andrei Bogomolov.
---
Entrance   Gallery   Mercedes-Benz cars   Sale   Links




---
Last updated 5 XII 1999.