Oldtimer picture gallery. Cars. Maybach SW38.
---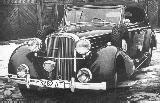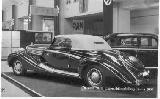 Maybach-SW38


Years of production: 1936-1939
Frame based front motor rear wheeldrive
car
Overall production: about 520
Engine: Maybach HL38 140hp/4000rpm, 6-cyl. OHC, 4-stroke 3817cc
Compression ratios: 6,3 : 1; 6,7 :1; 7,2 : 1
Bore/Stroke: 90/100mm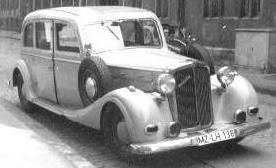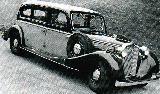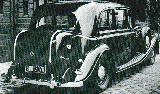 Length: up to 5090mm, width: ?mm,
height: ?mm (different body makes and
types)
Wheelbase: 3380mm, 3480mm (very rare), 3680mm (most often)
Road clearance: 200mm
Front wheel track: 1440mm, independent suspension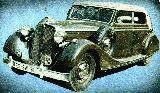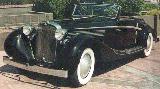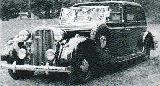 Rear track: 1480mm, independent suspension
Hydraulical shock absorbers
Turning radius: 6350mm
Oil filter: "Elektron"
Water cooling with pump
Carburetter: two Solex MMO VS 35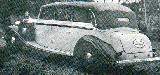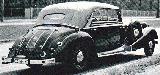 Cylinder firing order: 1-5-3-6-2-4
Gearbox:
Maybach DS G 35, 5-speed + 1 back
Ratios: I - 5,72; II - 3,26; III - 2,26; IV -
1,44; V - 1; back - 7,4
Differential ratio: 3,6 : 1
Foot brakes: 4-wheel mechanical "servo" Perrot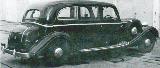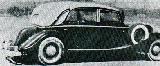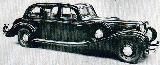 Hand brakes: 4-wheel mechanical
Electrics: 12 Volt, Bosch
Battery capacity: 62,5 A*h
Interrupter-distributor type:
Bo. VG 6 ARS 31
Generator type and power: Bo. RKC 130/12 825 L; ?Watt




Spark plugs type: Bo W 175/T22; 14mm;
electrode clearance: ? mm
Weight: some 2550 kg
Maximal speed: 130-160 km/h
Tyres: 6,50-17 inches
Fuel tank capacity: ? L



Fuel consumption: 21 Ltr./100km
(normal), 16-20 Ltr./100km (highway)
Motor cooling system capacity:
about 14 Ltr.
Limousine price: 17600 RM




Photos are from:
Almost all the b/w photos are from Michael Graf Wolff Metternich's book "Das Maybach Register", 1981, Sieger Verlag Lorch/Württemberg, Germany.
Victor Levine
Wolfgang Rödiger & Siegfried Herrmann's book "Autokorso 1886 bis 1936", Edition Leipzig, 1976.
eBay Deutschland.
Museum Sinsheim, Germany.
Eesti Antiikautode Galerii - Estonian Antique Automobiles Gallery by Rain Vaikla.
"Mobilisti" magazine, Finland.
Thanks a lot for help to Dariusz Piecinski, Lublin, Poland. Find also links to his articles from Link page.
---
You are welcome to write me by E-mail Contact. Andrei Bogomolov.
---
Entrance   Gallery   Cars   Maybach   Sale   Links
---
Last updated 26 I 2003.