Oldtimer picture gallery. Cars. Maybach-DSH.
---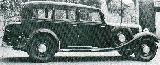 Maybach-DSH


Years of production: 1934-1935
Overall production: ?
Engine: ?hp/?rpm, ?-cyl, 4-stroke ?cc
Compression ratio: ?
Bore/Stroke: ?/?mm
Length: ?mm, width: ?mm, height: ?mm (different body makes and types)
Wheelbase: 3735mm
Front wheel track: ?mm
Rear track: ?mm
Rear axle clearance: ?mm
Turning radius: ?m
Gearbox: ?
Weight: ? kg
Maximal speed: ? km/h
Tyres: ? inches
Fuel tank capacity: ? L
Fuel consumption: ? L/100km
Price: ? RM
The image is from Michael Graf Wolff Metternich's book "Das Maybach Register", 1981, Sieger Verlag Lorch/Wuerttemberg, Germany.
---
If you have to add, ask or correct me, you are welcome to write me by E-mail Contact. Andrei Bogomolov.
---
Entrance   Gallery   Maybach cars   Sale   Links
---
Last updated 14 X 1998.