Oldtimers picture gallery. Trucks. Tatra 27, 27A, 27B.
---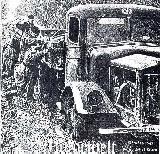 Tatra 27, 27a, 27b


Years of production: 1930-1941-1947
(Tatra 27, then 27a, then 27b (since 1941))
4x2 3-ton cargo truck with backbone frame chassis
Overall production:
3708, one of the most popular pre-war Tatra truck
Engine: water cooling 4-cyl. OHV, 4712cc, 63hp/2100rpm (later downrated to 60hp)
Dimensions (cargo): length - 6250mm, width - 2140mm, height - 2300mm
Cargo platform: length - 3975mm, width - 1980mm, board height - 600mm
Wheelbase: 4000mm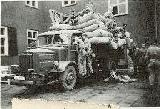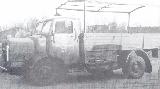 Front wheel track:
1700mm, independent transversal leaf-spring suspension
Rear track: 1700mm, longitudinal leaf-spring suspension
Road clearance: ?mm
Water ford depth: ?mm
Turning radius: ? m
Compression ratio: ? : 1
Bore/Stroke: ?/?mm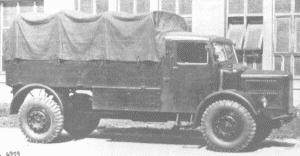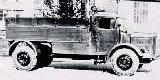 Carburetter: Solex 35 BFVR
Battery: 6 Volt, ? Ah
Radiator: from 5 replaceable standard sections
Clutch: dry single plate
Gearbox: 4-speed + back
Ratios: I - 6,3, II - 3,2, III - 1,95, IV - 1,0, back - 10
Differential ratio: 6 : 1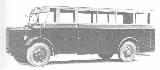 Hydraulic brakes: on all wheels, hand brakes - on ... (?)
Weight: 3550 kg
Maximal speed on highway: 60-68 km/h
Tyres: 9,75x20 inches
Fuel tank capacity: 110 Ltr.
Fuel consumption: 28-30 Ltr./100km

Photos and data are from:
Reinhard Frank's book "Lastkraftwagen der Wehrmacht", PODZUN-PALLAS, 1992,
BAhR Automotive History Pages,
Bart Vanderveen's book "Historic Military Vehicles Directory", "After the Battle" publication, 1989,
eBay Deutschland.
Thanks for help to Liucijus Suslavičius (Vilnius), automobile historian and author of numerous publications,
Denis Orlov (Moscow), automobile historian and journalist,
Albert Kopans (Canada).
---
You are welcome to write me by E-mail Contact. Andrei Bogomolov.
---
Entrance   Gallery   Trucks   Tatra   Sale   Links
---
Last updated 7 II 2003.