Oldtimers picture gallery. Trucks. s. WS..
Produced by Büssing-NAG, Tatra(?).
---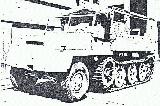 Schwerer Wehrmacht-Schlepper (heavy Wehrmacht towtruck)


Years of production: 1943-1945
halftrack 4-ton Zugkraftwagen (+ 8-ton of the trailing), 2 + 10 passengers
Overall production: about 1000 (by Bussing-NAG, co-produced by Tatra at the very end of the war, by another source there was just a plans about Tatra, no production)
Engine (Büssing-NAG): Maybach HL 42 TRKMS, carburettor watercooled 6-cyl. OHC, 4198cc, 100hp/3000rpm
Engine (Tatra): V-8 diesel, 10 Ltr., 40hp(?!)
Dimensions: length - 6672mm, width - 2500mm, height - 2830mm
Chain wheelbase: 2040mm, chain length: 9935mm
500-mm wide dry-pin tracks, 55 links, 90mm every section
Front leading sprocket, rear wheel and 5 twin wheels in between in every side chain
Bore/Stroke: 90/110mm
Compression ratio: 6,6 : 1
Carburetter: one Solex 40 IFF II
Battery: 12 Volt, 75 Ah
U-profile frame
Clutch: dry twin plate
Gearbox (driving front sprockets): 4-speed + back, plus 2-speed auxilliary gearbox
Ratios: I - 6,50, II - 3,20, III - 1,74, IV - 1,00
Auxilliary box ratios: highway - 1,684, offroad - 2,52
Chain wheel (sprocket) ratio: 4,11
Air brakes with disks on leading chain wheels (sprockets)
Hand brakes: on leading chain wheels (sprockets)
Front wheel track: 2100mm, transversal leaf-spring suspension
Rear track: 1950mm, with torsion bars
Road clearance: 465mm
Water ford depth: 1000mm
Turning radius: 7,5 m
Weight: 9500 kg (gross - 13500kg)
Maximal speed on highway: 27,4 km/h
Tyres: offroad 270x20 inches
Fuel tank capacity: 240 L
Fuel consumption: 80 L/100km (highway), 160 L/100km (offroad)
Optional 2500kg winch at the rear

This vehicle was desined as a replace for Sd. Kfz. 6.
Photos and data are from:
Werner Oswald's book "Kraftfahrzeuge und Panzer der Reichwehr,Wehrmacht und Bundeswehr", 1982, Motorbuch Verlag Stuttgart.
Bart Vanderveen's book "Historic Military Vehicles Directory", "After the Battle" publication, 1989.
---
You are welcome to write me by E-mail Contact. Andrei Bogomolov.
---
Entrance   Gallery   Trucks   Büssing-NAG   Tatra   Sale   Links
---
Last updated 20 XII 2001.