Oldtimers picture gallery. Cars. Steyr 530.
---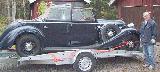 Steyr 530


Years of production: 1935-1936
Overall production: 456
4x2 4-6-seater front motor rear wheel drive car
Body types: Cabriolet, 4-door Limousine, Double-Phaeton, Ambulance, 4-door Limousine Spezialkarosserie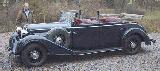 Engine: Steyr 530: 55hp/3800rpm (long term - 53hp/3600rpm),
petrol, water cooled straight 6-cyl. OHV, 4-stroke 2260cc
Compression ratio: 5,75 : 1
Bore/Stroke: 73/90mm
Carburettor: Pallas SA III
Battery: 12V, 60 A*h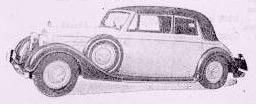 Generator: Siemens L Ah
Interrupter-distributor: Bo VA 6
Spark plugs type: Bo M 175, 18mm
Cylinder firing order: 1-2-4-6-5-3
Clutch: ?
Length: 4780 mm, width: 1680 mm, height: 1650 mm
Wheelbase: 3250mm
Front wheel track: 1380 mm
Rear track: 1380 mm
Clearance: 220 mm
Turning radius: 6,25 m
Gearbox: Steyr-Aphon Lizenz ZF, 4 speed + back, synchronized II, III and IV
Ratios: IV - 5,18, III - 2,48, II - 1,34, I - 1, rear - 6,7
Rear axle ratio: 4,91, 4,73 (11/54, 11/52)
Front suspension: independent, transverse leaf spring
Rear suspension: independent, swing axle
Brakes: all-wheel hydraulical, type ATE Lockheed
Weight (ready to run): 1500 kg (Limousine and Cabriolet)
Maximal speed: 105-110 km/h
Tyres: 5,50x18 inches
Fuel tank capacity: ? L
Fuel consumption: 14-16,5 L/100km
Photo and data are from:
Dariusz Piecinski, Lublin, Poland (find also links to his articles from Link page),
Aleksandr Gaizhevskii, Odessa, Ukraine,
Lars-Magnus Trozelli (Sweden), owner of this Cabriolet on color pictures.
---
You are welcome to write me by E-mail Contact. Andrei Bogomolov.
---
Entrance   Gallery   Cars   Steyr   Sale   Links
---
Last updated 9 XI 2002.