Oldtimer picture gallery. Cars. Skoda Superb (Typ 902, 913).
---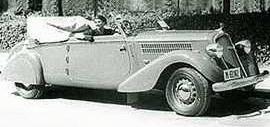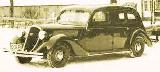 Skoda 902 and 913

(Data for 913 - in parenthesis)
Years of production: 1936-1939
Overall production: 403 units
4x2 front motor rear wheel drive car
Body types: 4-door 6-light Limousine, Sedan, Cabriolet, Ambulance



Engine: Skoda 60hp(65hp)/?rpm, liquid cooling straight 6-cyl, 4-stroke SV, 2704cc (2916cc)
Bore/Stroke: ?/? mm
Length: 5500mm, width: 1700mm, height: 1700mm
Wheelbase: ?mm
Carburettor: ?
Gearbox: ?-speed
Weight: 1600-2200 kg
Brakes: ?
Maximal speed: 115 km/h (120 km/h)
Tyres: ? inches
Fuel tank capacity: ? L
Fuel consumption: 15-17 (16-18) L/100km
Images and data are kindly permitted by Skoda Auto official site.
---
You are welcome to write me by E-mail Contact. Andrei Bogomolov.
---
Entrance   GALLERY   Cars   Skoda   Sale   Links
---
Last updated 9 I 2001.