Oldtimer picture gallery. Cars. Renault Viva Grand Sport.
---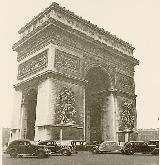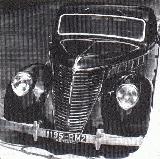 Types: ACX1, ACX2, ACX3, BCX1, BCX2, BCX3, BDV1


Years of production: 1936 - 1939 (in 1939 - new grille)
Overall production:
4x2 front motor rear wheel drive car, frame based
Body types:
6-seater Pullman Saloon, 3-seater Coupe, 5/6-seater Coupe,
8-seater Pullman limousine
Engine: 78hp/3200rpm, carburettor straight 6-cyl. 4-stroke SV, 4085cc
Bore/Stroke: ?/? mm
Compression ratio: ? : 1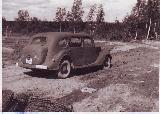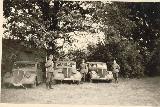 Water pump cooling
Length: 476cm and ?cm, width: 175cm, height: ?mm
2 wheelbases: 296cm or 316cm, road clearance: ?m
Front wheel track: ?mm; rear track: ?mm
Turning radius: ? mm
Carburettor type: ?
Generator type and power: ?
Starter type and power: ?; ?hp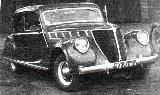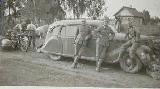 Spark plugs type: ?; ?mm; electrode clearance: ? mm
Cylinder firing order: ?
Steering type: ?
Clutch: ?
Clutch pedal clearance: ?mm
Gearbox: ?-speed
Ratios: ?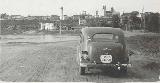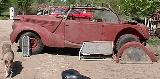 Differential ratio: ? : 1
Front suspension: ?
Rear suspension: ?
Brakes: ?
Weight: ?
Maximal load of axles: front - ? kg, rear - ? kg
Maximal speed: 130 km/h (1939 - 135 km/h)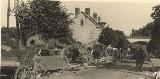 Tyres: ? inches
Tyre pressures (atmospheres): front - ?, rear - ?
Fuel tank capacity: ? Ltr
Petrol consumption: 15 Ltr/100km
Cooling system capacity: 18 Ltr of water
Oil carter capacity: engine - ? Ltr; gearbox - ? Ltr; differential -? Ltr

More old photos of Renault Viva Grand Sport:
1. 1939 poster, 28k photo.
2. 1937 poster, 24k photo.
3. 1937 poster, 23k photo.
4. Renault Viva Grand Sport of the Field Gendarmerie, USSR, 21k WW2 photo.
5. Renault Viva Grand Sport of the Field Gendarmerie, USSR, 24k WW2 photo.

Photos are from:
eBay Deutschland.
eBay France.
"Classic cars of the 1930`s and 1940`s" by Michael Sedgwick, Sweden, 1997.
"A-Z of Cars of the 1930s" by M.Sedgwick & M.Gillies.
Denis Orlov, automobile historian and journalist, Moscow.
Renault.
Mobile.de.
---
Entrance   Gallery   Cars   Renault   Sale   Links
---
Last updated 13 VIII 2006. Andrei Bogomolov. Contact Information.