Oldtimer gallery. Cars. Peugeot 202.
---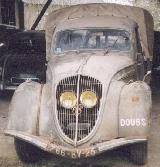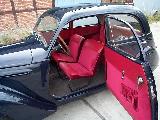 Peugeot 202

(data are for pre-war berline)
Years of production: 1938-1940?, late 1945-1949
Overall production: 62773 pre-war (104126 overall)
4x2 front engine rear wheeldrive car, chassis-less body
Body types: 4-door sunroof saloon (berline), 4-door sliding canvas
roof saloon (berline), all-steel station wagon (brake), pickup
(camionette), 2-door cabriolet, wooden station wagon, various.
Engine: water pump cooled 30hp/4000rpm straight 4-cyl. 4-stroke OHV, 1133cm3
Bore/Stroke: 68/78 mm
Compression ratio: 7 : 1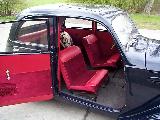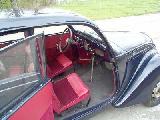 Length: 4115mm, width: 1499mm, height: 1499mm
Wheelbase: 2451mm
Front wheeltrack: 1194mm, independent suspension
Rear track: 1194mm, inverted quarter elliptic leaf springs
Hydraulical dumpers
Road clearance: 170mm
Turning radius: 4,41m
Oil pump make: S.E.V.
Carburettor type: Solex 1AC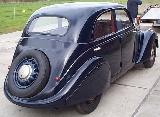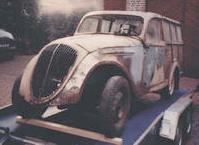 Clutch: "Mecano", dry single plate
Gearbox: 3-speed, synchronized II and III
Ratios: I - 3,52, II - 1,71, III - 1,00, back - 4,44
Differential ratio: 5,25
Worm final drive
Steering mechanism: worm-sector
Brakes: hydraulical 4-wheel, Lockheed
Hand brakes: mechanical, 2-wheel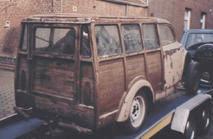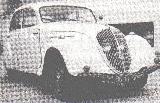 Electrics, make and voltage: "S.E.V.", 12 Volt
Battery capacity: 40 A*h
Generator type and power: Ducellier R3211 RSP 3 100 Watt
Spark plugs, type and dimension: AC (KD 7), 14mm
Weight, ready for run: 914kg (berline)
Maximal speed: 103 km/h
Tyre size: 155x400
Tyre pressures (atmospheres): front - 1,2; rear - 1,4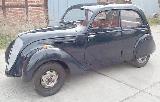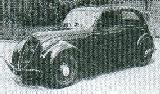 Fuel consumption: 8,3 Ltr./100km, norm - 9 Ltr./100km
Fuel tank capacity: 45 Ltr.
Cooling system capacity: 8,5 Ltr.
Oil capacities: engine carter - 4 Ltr., gearbox - 0,6 Ltr.
Price: ?
Rear view of berline here is not very correct. Look between spare
wheel and rear window. There is well visible welded strip with rounded ends. There was special niche for registration plate with
two plate lamps on the sides, covered by glass on the level of environmental body lines. This pictured black berline with red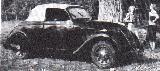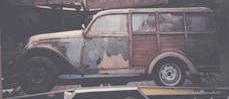 interior is not very original car.

Sources of photos:
Oldtimer-Scheune.
Mobile.de.
Brigitte, secretary of C.A.R. - Club der Anhänger alter Renault, Wien, Austria.
eBay Deutschland.
"Oldtimer Markt" magazine, Germany.
"A-Z of Cars of the 1930s" by M.Sedgwick & M.Gillies.
Thanks for help to Jan Szatan, Poland, (this is link to his interesting site).
---
You are welcome to write me by E-mail Contact. Andrei Bogomolov.
---
Entrance   Gallery   Cars   Peugeot   Sale   Links
---
Last updated 9 XII 2002.