Oldtimer picture gallery. Trucks. Mercedes-Benz L3000S.
---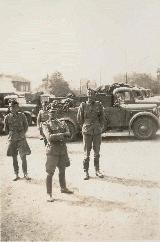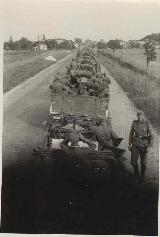 Mercedes-Benz L3000S


Years of production: 1940-1942
Overall production: about 27700
(including 1938-1939 "L3000" and
1940-1942 "L3000A")
4x2 3,1-ton rear axle drive truck
Dimensions (pritschenwagen (cargo)):
length: 6255mm or 6715mm,
width: 2240mm, height: 2585mm
Wheelbase: 3800mm or 4250mm
Cargo platform dimensions:
3500mm or 4000mm x 2100mm
Road clearance: 225mm
Front wheel track: 1685mm; toe-in: ? mm; camber: ?o; caster: ?o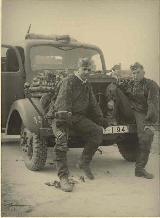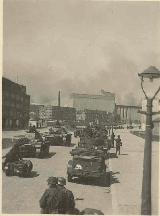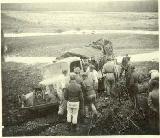 Rear track, mid-wheels: 1650mm
Turning radius: 7,6m or 7,9m
Engine: Diesel Daimler-Benz OM 65/4
75hp/2250rpm, straight 4-cyl. OHV,
4849cc
Bore/Stroke: 105/140 mm
Pistons type and material: ?
Compression ratio: 20 : 1
Fuel pump: Bosch or Deckel
Water pump motor cooling
Electrics: 12V, 2 batteries, capacity - 75 A*h every
Clutch: dry single plate
Clutch pedal free run: ?mm
Gearbox: 5 forward, 1 back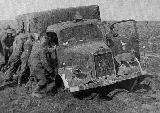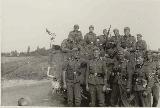 Ratios: I - 9,00; II - 4,50; III - 2,50;
IV - 1,35; V - 1,00; rear - ?
Differential ratio: 5,00 : 1
Frame: U-profile
Front suspension: leaf springs
Rear suspension: leaf springs
Hydraulic brakes on all wheels
Mechanic hand brakes on rear wheels
Weights: own: 3690kg, gross: 6790kg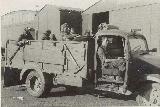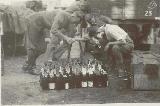 Maximal speed: 70 km/h
Tyres: 190-20 or 7,50-20 inches,
offroad, twin wheels on rear axles
Tyre pressures (atmospheres): ?
Fuel tank capacity: 90 Ltr.
Fuel consumption (Diesel):
18 Ltr/100km (highway), 27 Ltr/100km (offroad)
Cooling system capacity: ? Ltr.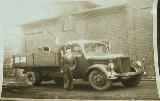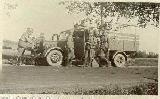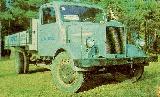 Gearbox oil carter capacity: ? Ltr.
Ford depth: 700mm

Photos and data are from:
Werner Oswald "Kraftfahrzeuge und
Panzer der Reichwehr,Wehrmacht und
Bundeswehr", 1982, Motorbuch Verlag Stuttgart.
eBay Deutschland.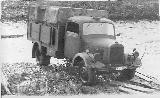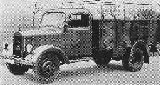 Bart Vanderveen's book "Historic Military
Vehicles Directory", "After the Battle"
publication, 1989.
Reinhard Frank's book "Lastkraftwagen
der Wehrmacht", PODZUN-PALLAS,
1992.
Mobile.de.
Frank Nieuwenhuis, Luxembourg.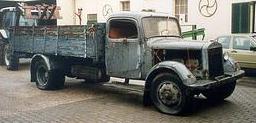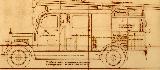 Klubi "UNIC", Estonia, photo T. Noorits.
Thanks for help to:
Denis Orlov (Moscow),
Jan Szatan (Poland),
Aleksandr Dzyadchik (Moscow).
---
Entrance   Gallery   Trucks   Mercedes-Benz   Sale   Links
---
Last updated 4 III 2003. Andrei Bogomolov. Contact information.