Oldtimers picture gallery. Cars. Mercedes-Benz 600 K.
---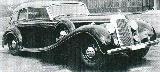 Mercedes-Benz 600 K (W157 and W148)

(some data for W148 are summary with 600 V W148)
Years of production: 1941-1942
Overall production: 12 (Typ 600 K W157) + 8? (Typ 600 K W148)
Body types (on the photos are 1:5 scale models of August 1940):
W157: Roadster (front), Roadster (rear), Coupe (front), Coupe (rear), Cabriolet A, Limousine (front), Limousine (rear), Cabriolet B, Cabriolet C (front), Cabriolet C (rear);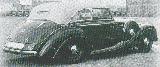 W148: Pullman-Limousine, Tourenwagen, Cabriolet F, Innenlenker-Limousine, Cabriolet D.
Engine: Daimler-Benz M157 V12-cyl (80o), 4-stroke, 6020cc 155hp (240hp with kompressor)/3600rpm
Wheelbase: 3780 or 3880mm (W148), 3280 or 3415 (W157)
Length: 5870-6000mm (W148), 5000mm (W157); width: 2070mm (W148), 1900mm (W157); height: 1800mm (W148), 1700mm (W157)
Compression ratio: 6,3 : 1
Bore/Stroke: 82/95mm


Clutch: Dry twin plate
Front wheel track: 1600mm (W148), 1475mm (W157)
Rear track: 1650mm (W148), 1500mm (W157)
Road clearance: ?mm
Turning radius: 7,50 - 7,85 m (W148), 6,5 - 7,0 m (W157)
Gearbox: 5-speed (V = overdrive)
Brakes: hydraulic, all-wheel
Weight: 3200-3400 kg (W148), 2000 kg (W157)
Maximal speed: 170 km/h (W148), 190 km/h (W157)
Tyres: 8,25-17 inches (W148), 7,50-17 inches (W157)
Fuel tank capacity: 195 L (W148), 120 L (W157)
Fuel consumption: 35 L/100km
Photos and data are from Werner Oswald's book "Mercedes-Benz Personenwagen 1886-1986", 1987, Motorbuch Verlag Stuttgart..
---
You are welcome to write me by E-mail Contact. Andrei Bogomolov.
---
Entrance   Gallery   Cars   Mercedes-Benz   Sale   Links
---
Last updated 26 II 2001.