Oldtimer picture gallery. Cars. Maybach W5 & W5 SG.
---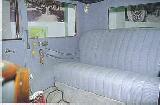 Maybach W5, W5 SG (Schnellgang Getriebe)


Years of production: W5: 1926-1928-?; W5 SG: 1928-?
Frame based front motor rear wheeldrive car
Overall production: ?
Engine: Maybach 120hp/1800rpm, 6-cyl., 4-stroke 6995cc
Compression ratios: ? : 1
Bore/Stroke: ?/?mm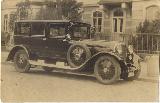 Length: ?mm, width: ?mm, height: ?mm
Wheelbase: 3660mm
Road clearance: ?mm
Front wheel track: ?mm
Rear track: ?mm
Turning radius: ?mm
Carburetter: ?
Cylinder firing order: ?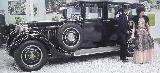 Gearbox: 2-speed (W5), "Schnellganggetriebe" without clutch (W5 SG)
Ratios: ?
Differential ratio: ? : 1
Foot brakes: ?
Hand brakes: ?
Electrics: ? Volt
Battery capacity: ? A*h
Interrupter-distributor type: ?
Generator type and power: ?; ?Watt
Spark plugs type: ?
electrode clearance: ? mm
Weight: some ? kg
Maximal speed: 120 km/h (W5 SG)
Tyres: ? inches
Fuel tank capacity: ? L
Fuel consumption: ? Ltr./100km
Motor cooling system capacity: about 26 Ltr.
Price: 31500 ... 33500 RM

Photos are from:
eBay Deutschland.
Museum Sinsheim, Germany.
---
You are welcome to write me by E-mail Contact. Andrei Bogomolov.
---
Entrance   Gallery   Cars   Maybach   Sale   Links
---
Last updated 26 I 2003.