Oldtimer picture gallery. Trucks. Magirus M206 (p). Sd. Kfz. 231, 232, 263.
---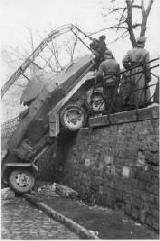 Sd. Kfz. (Sonder-Kraftfahrzeug, special vehicle) 231, 232, 263;
s. Pz. Spähwagen (schwere Panzer-Spähwagen, heavy armoured reconnaissance vehicle)


Years of production: 1934-1936
Overall production: 80
Magirus M206 based 6x4 front engine 4 rear wheeldrive armoured car with 2 driving places
Modifications:
Sd.Kfz.231: heavy armoured reconnaissance vehicle ("Waffenwagen"), turret, 2-cm gun, machine
gun, crew 4
Sd.Kfz.232: heavy armoured reconnaissance vehicle (Fu) ("Funkwagen"), turret, frame antenne,
2-cm gun, crew 4
Sd.Kfz.263: heavy armoured radio vehicle, no turret, machine gun, frame antenne, crew 5
Length: 5570mm, width: 1820mm, height: 2250mm (with frame antenne - 2900mm)
Wheelbase: 2500 + 900 mm
Road clearance: 240 mm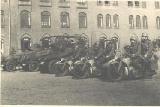 Leaf spring suspension, inverted at rear
Front wheel track: 1695mm; toe-in: ? mm; camber: ?o; caster: ?o
Rear track: inner wheels - 1440mm, outer wheels - 1840mm
Lockable differentials
Turning radius: 7,5 m
Engines: "Magirus S88" 70hp/2200rpm, petrol watercooled 6-cyl. OHV 4-stroke, 4562cc
Bore/Stroke: 88/125 mm; compression ratio: 5,8 : 1
Carburettor: Solex BFLH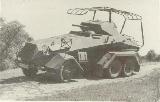 Electrics: 12V, battery capacity - 105 A*h
Generator type and power: ?; 300 W (Sd.Kfz.231), 600 W (Sd.Kfz.232 (and 263?))
Starter type and power: ?, ? hp
Spark plugs type: ?; ?mm; electrode clearance: ? mm
Clutch: dry single plate
Clutch pedal free run: ?mm
Gearbox: 4 speed main + forward/reverse auxilliary gearbox
Ratios: ?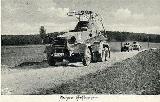 Differential ratio: ? : 1
Duplicated driving controls in rear of hull
Box profile frame
Brakes: mechanic, on 4 rear wheels
Hand brakes: on gearbox
Weight: 5300kg + 700kg load
Maximal speed: forward- and back - 62 km/h
Tyres: 6,00-20 inches, offroad
Tyre pressures (atmospheres): ?
Fuel tank capacity: 110 Ltr.
Petrol consumption: 35 Ltr/100km (highway), 55 Ltr/100km (offroad)
Cooling system capacity: ? Ltr.
Gearbox oil carter capacity: ? L
Ford depth: 550mm
Armour: 14,5 mm front, 8 mm sides and rear
Similar vehicles also produced by Mercedes-Benz and Büssing-NAG, but only Magirus had small support wheels before middle axle.

Photos and data are from:
Werner Oswald "Kraftfahrzeuge und Panzer der Reichwehr,Wehrmacht und Bundeswehr", 1982,
Motorbuch Verlag Stuttgart.
eBay Deutschland.
Bart Vanderveen's book "Historic Military Vehicles Directory", An After the Battle publication, 1989,
Thanks for help to Jan Szatan, Poland (homepage).
---
Entrance   Gallery   Trucks   Magirus   Sale   Links
---
Last updated 11 III 2003. Andrei Bogomolov. Contact Information.