Oldtimer picture gallery. Trucks. Lorraine 37L.
---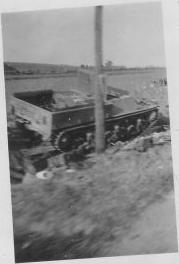 Tracteur Blindé 37L



Years of production: 1937-1940, 1944
Overall production: about 400,
many captured by Germans and converted into gun- and howitzer self-propelled vehicles
Full-track carrier, prime mover
Engine: "Delahaye 103TT" 70hp/?rpm, petrol watercooled 6-cyl. OHV 4-stroke, 3533cc
Bore/Stroke: ?/? mm
Compression ratio: ? : 1
Dimensions: length: 4220mm, width: 1600mm, height: 1230mm
Road clearance: ?mm
Leaf spring suspension
Track: 1340mm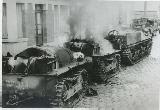 Carburetter: ?
Electrics: ?V, battery capacity - ? A*h
Generator type and power: ?; ? W
Starter type and power: ?, ? hp
Spark plugs type: ?; ?mm; electrode clearance: ? mm
Clutch: dry single plate
Clutch pedal free run: ?mm
Gearbox: 5 forward, 1 back; + Cletrac controlled differential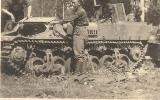 Ratios: ?
Driving front sprockets
Mechanical brakes
Weight: 6200kg
Trailer weight: ?kg
Maximal speed: ? km/h
Fuel tank capacity: ? Ltr.
Motor oil capacity: ? Ltr.
Petrol consumption: ? Ltr/100km
Gearbox oil carter capacity: ? L
Ford depth: ?mm

Photos and data are from:
Werner Oswald "Kraftfahrzeuge und Panzer der Reichwehr,Wehrmacht und Bundeswehr", 1982,
Motorbuch Verlag Stuttgart.
eBay Deutschland.
---
Entrance   Gallery   Trucks   Lorraine   Sale   Links
---
Last updated 7 VI 2006. Andrei Bogomolov. Contact Information.