Oldtimer picture gallery. Trucks. Krupp Protze Kfz. 70.
---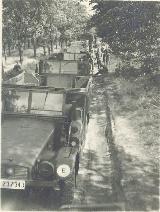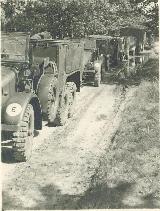 Krupp L 2 H 43, Krupp L 2 H 143 (le. gl. Lkw 1 to (6x4))


(Leichte gelände Lastkraftwagen 1-ton)
Years of production: 1933-1936 (L 2 H 43), 1937-1941 (L 2 H 143)
Overall production: about 3400 (of about 7000 of all Krupp Protze)
Personnel carrier, Mannschaftstransportwagen (Truppen-Luftschütz-Kraftwagen) Kfz.70
Engine: "Krupp M 304" 60hp/2500rpm (pre-1936: 55hp/2500rpm),
petrol aircooled opposite 4-cyl. OHV 4-stroke, 3308cc
Bore/Stroke: 90/130 mm
Compression ratio: 5,2 : 1
Length: 4950mm, width: 1950mm, height (with tarpaulin): 2300mm
Wheelbase: 2470 + 860 mm (L 2 H 43), 2445 + 910 mm (L 2 H 143)
Road clearance: 225mm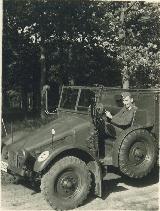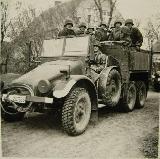 Front suspension: rigid, on semielliptic leaf springs
Front wheel track: 1580mm (L 2 H 43), 1585mm (L 2 H 143)
Rear suspension: independent, with horizontal coil springs
Rear track (both axles): 1555mm (L 2 H 43), 1560mm (L 2 H 143)
Turning radius: 7,25 m
Both differentials lockable
Carburettor: one Solex BFLH 40
Electrics: 12V, battery capacity - 75 A*h
Generator type and power: ?; ? W
Starter type and power: ?, ? hp
Spark plugs type: ?; ?mm; electrode clearance: ? mm
Clutch: dry single plate
Clutch pedal free run: ?mm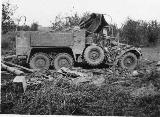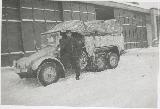 Gearbox:
ZahnradFabrik-Aphon Gb35L (L 2 H 43), Gb35bL (L 2 H 143)
4 forward, 1 back + auxilliary box
Ratios:
Gb35L: I - 5,50; II - 3,52; III - 1,59; IV - 1,00; back - 2,22
Gb35bL: I - 4,85; II - 2,62; III - 1,49; IV - 1,00; back - 2,22
Differential ratio: 5,25 : 1
U-profile central frame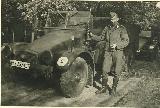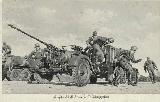 Brakes: 6-wheel hydraulic
Hand brakes: mechanical, on gearbox
Weight: 2600kg + 1150kg load; trailer weight - 1000kg
Maximal speed: 70 km/h
Tyres: 7,50-17 inches, offroad
Tyre pressures (atmospheres): ?
Fuel tank capacity: 110 Ltr.
Motor oil capacity: 10 Ltr.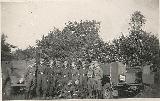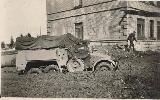 Petrol consumption: 27 Ltr/100km (highway), 40 Ltr/100km (offroad)
Gearbox oil carter capacity: ? L
Ford depth: 600mm

More WW2 photos:
1. Krupp Protze of SS-division "Das Reich" with Anti-Tank gun Pak-37, 146k photo.
2. Krupp Protze and Zündapp K500, 116k photo.
3. Krupp Protze and SS column, 87k photo.
4. 8-ton Sd. Kfz. 7 towing Krupp Protze, river ford crossing, 83k photo.
5. Krupp Protze with spare wheel taken off, winter, 67k photo.
6. Horch 830R Kfz. 17 and Krupp Protze of Anti-Aircraft Region Lippe, 1938, 66k photo.
7. Stalinec S-60 towing Krupp Protze, USSR, 62k photo
8. Horch 830R Kfz. 17 and Krupp Protze of Anti-Aircraft Regiment, German-Luxembourg boundary near Wallendorf, 9 V 1940, 61k photo
9. Opel Olympia OL38 and Krupp Protze, 60k photo
10. Krupp Protze column towing Anti-Aircraft guns, 66k photo
11. Krupp Protze parade column, 55k photo.
12. Krupp Protze Kfz. 70, Armoured Paratroopers Regiment, 54k photo.
13. Krupp Protze of 22th Anti-Aircraft Regiment in Radom, Poland, 53k photo, 34k photo, 34k photo.
14. Krupp Protze WH-158222 in U.S.S.R., 52k photo.
15. Krupp Protze WL-126553 with Anti-Aircraft gun, Italy, 1943-1944, 45k photo.
16. Krupp Protze in Bulgaria, 1941, 51k photo.
17. Krupp Protze in Winter, U.S.S.R., 50k photo, 36k photo.
18. Krupp Protze and Wanderer W24 in Winter, U.S.S.R., 49k photo.
19. Krupp Protze chassis, 48k photo.
20. Krupp Protze and Anti-Aircraft gun position preparing in Winter, U.S.S.R., 51k photo, 40k photo, 48k photo, 40k photo, 45k photo, 41k photo.
21. Krupp Protze on the road Vitebsk - Minsk, 48k photo, 41k photo.
22. Krupp Protze with Anti-Aircraft gun, U.S.S.R., 47k photo.
23. Krupp L 2 H 43, 46k factory(?) photo, 1936.
24. Krupp Protze SS-201566, 46k photo.
25. Krupp Protze, Belgium, 46k photo
26. Krupp Protze WH-298395, special "soft-ladder dirt tracks", 46k photo.
27. Krupp Protze towing Anti-Aircraft gun, Belgium, 46k photo
28. Krupp Protze, Italy, 1943-1944, 45k photo, 32k photo, 22k photo.
29. Krupp Protze WH-265287 after accident, 44k photo.
30. Krupp Protze under repair, 39k photo.
31. Krupp Protze WL-79088, drivers school of the Luftwaffe, 39k photo.
32. Krupp Protze near broken bridge, 38k photo.
33. Krupp Protze on railway wagon, USSR, 38k photo.
34. Krupp Protze on ship deck, dashboard, 38k photo.
35. Krupp Protze Kfz.70 WL-404355 with Anti-Aircraft gun, 37k photo.
36. Krupp Protze on the forest road, 36k photo.
37. Krupp Protze in field, 33k photo.
38. Krupp Protze, village road, 30k photo.
39. Krupp Protze with 2-cm Flak (Anti-Aircraft gun), Stettin (now - Szczecin, Poland), 1938, 30k photo.
40. Krupp Protze WH-54000, bottom view, 30k photo.
41. Krupp Protze WL-xx6867, specially closed 1st two digits, 28k photo.
42. Krupp Protze, snow storm, Russia, 26k photo.
43. Krupp Protze in Greece, 25k photo.
44. Krupp Protze in USSR, 20k photo.
45. Krupp Protze WL-48436 in Greece, 1941, 20k photo.
46. Destroyed Krupp Protze WH-174187, 16k photo.

Photos and data are from:
Werner Oswald "Kraftfahrzeuge und Panzer der Reichwehr,Wehrmacht und Bundeswehr", 1982,
Motorbuch Verlag Stuttgart.
eBay Deutschland.
---
Entrance   Gallery   Trucks   Krupp   Protze   Sale   Links
---
Last updated 30 V 2006. Andrei Bogomolov. Contact Information.