Oldtimer picture gallery. Cars. KdF 166.
---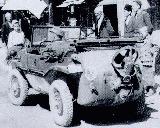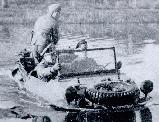 KdF 166 "Schwimmwagen", Pkw. Typ K2s.


Years of production: 1942-1944
Overall production: 14283 units
4x4 rear-motor passenger amphibia
Engine: 25hp/3000rpm, aircooled 4-cyl. boxer OHV, 1131cc
Bore/Stroke: 75/64 mm
Compression ratio: 1 : 5,8
Length: 3825mm, width: 1480mm, height: 1615mm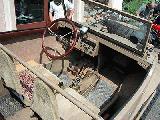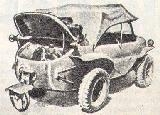 Wheelbase: 2000mm
Road clearance: 265mm (unloaded), 245mm (loaded)
Board over the waterline: 350mm
Free swimming depth: 770mm
Turning radius: 5m (ground), 8m (on the water)
Battery: 6 Volt, 75 A*h (under the rear seat)
Carburetter: 1 downdraft Solex 26 VFJ
Clutch: dry single plate
Gearbox: 4-speed + offroad (Gelände) + back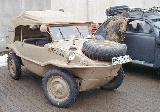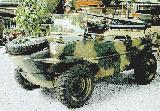 Ratios: offroad - 5,86, I - 3,60, II - 2,07, III - 1,25, IV - 0,80
Two self-locking differentials
Rear axle ratio: 4,43 (7:31) plus gear 15:21, in sum - 6,2
Front axle ratio: 6,2 (5:31)
Front wheel track: 1220mm
Rear track: 1230mm
Front suspension: ?
Rear suspension: ?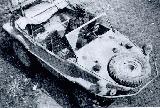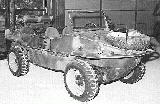 Mechanical brakes on all wheels
Weight: 910 kg
Maximal speed: 80 km/h (highway), 10 km/h (water)
Tyres: offroad 5,25-16 inches or 200-12 for tropical usage
Fuel tanks capacity: 2 x 25 L (in front part of the car)
Fuel consumption: 9,5 L/100km (highway), 10 L/hour (water)
Oil carter capacity: engine - 2,5 L.
Price: 4667 RM (self-price, not for sale)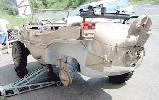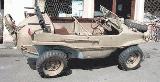 Photos and data are from:
Werner Oswald "Kraftfahrzeuge und Panzer der Reichwehr,
Wehrmacht und Bundeswehr", 1982, Motorbuch Verlag, Stuttgart,
Reinhard Frank "Personenwagen der Wehrmacht",
PODZUN-PALLAS,
Martin Krusche (Styria, Austria), look at his interesting homepage,
Vintage Imports,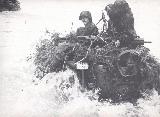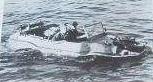 Museum Sinsheim, Germany,
Denis Orlov, automobile journalist and historian, Moscow,
Panzermuseum Munster,
Za Ruljom magazine, USSR,
Bart Vanderveen "Historic Military Vehicles Directory", "After the Battle" publication, 1989,
Molotok.ru auction site (Russia).
eBay.
---
You are welcome to write me by E-mail Contact. Andrei Bogomolov.
---
Entrance   Gallery   Cars   KdF   Sale   Links
---
Last updated 10 VIII 2002.