Oldtimer picture gallery. Cars. Hanomag-2/10 PS "Kommisbrot".
---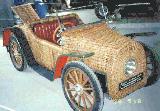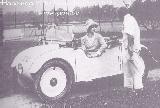 Hanomag 2/10 PS "Kommisbrot" or "Kohlenkasten"

(Data for Limousine)
Years of production: 1924 - 1929
Overall production: 15775
4x2 rear motor rear wheel drive car, frame based
Body types: 2-seater limousine, 2-seater open tourer, sport, used also as taxi in Berlin
Engine: 10hp/2500rpm, carburettor 1-cyl. ?-stroke, 499cc
Bore/Stroke: 80/100 mm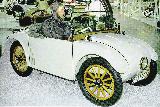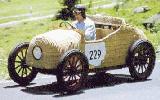 Compression ratio: ? : 1
Water cooling
Piston type and material: ?
Cold clearance between tappet and valve stem: intake - ?mm, exhaust - ?mm
Length: 2600mm, width: 1400mm, height: ?mm
Wheelbase: 1920mm, road clearance: ?mm
Front wheel track: ?mm; rear track: ?mm
Turning radius: ? m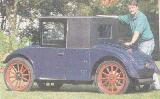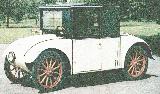 Carburettor: ?
Dimensions: diffusor - ?mm; main jet - ?; sprayer jet - ?; idling jet (sprayer tube/calibrated hole) - ?/?; accelerator jet - ?;
between float's top and bottom of float chamber - ?mm
Ignition system: battery, capacity - ? A*h
Generator type and power: ?; ?W
Starter type and power: ?; ?hp
Spark plug type: ?; ?mm; electrode clearance: ? mm
Steering type: ?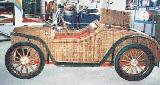 Clutch: dry single plate
Clutch pedal clearance: ?mm
Gearbox: 3-speed + 1 back, in one block with motor
Ratios: I - ?, II - ?, III - ?, back - ?
Rear axle without differential
Front suspension: on two transversal leaf-springs
Rear suspension: on coil-springs
Mechanical brakes on rear axle
Weight: 370 kg
Maximal load of axles: front - ?kg, rear - ?kg
Maximal speed: 60 km/h (highway)
Tyres: ?x? inches
Tyre pressures (atmospheres): ?
Fuel tank capacity: ? L
Petrol consumption: ? L/100km
Cooling system capacity: ? L of water
Oil carter capacity: ? L

Photos are from:
Rex Schneider (Cottbus, Germany). This wicked body "Korbwagen" on 2 big photos belongs to Mtr. König (Cottbus), 3 built.
Upper black & white photo shows the car, which was driven by father of Rex, and the picture was taken by Rex's mother in 1961 on the first veteran-rally in Dresden.
Museum Sinsheim, Germany.
"Svet Motoru" magazine, Czechoslovakia.
German Parts Unlimited, parts and literature, Germany.
"Oldtimer Markt" magazine, Germany.
Woodies@home.
---
You are welcome to write me by E-mail Contact. Andrei Bogomolov.
---
Entrance   Gallery   Cars   Hanomag   Sale   Links
---
Last updated 29 XI 2001.