Oldtimers picture gallery. Trucks. Ford WOC1 (British).
---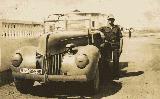 Ford WOC1


Years of production: XII 1939 - VII 1940
Overall production: 2001.
4x2 rear wheel drive front engine 8-cwt (appr. 400kg) utility, based on Canadian Ford Model 01C imported chassis components
Engine: Ford V-8, 85hp/3600rpm, V-8-cyl., carburettor, 4-stroke SV, 3621cc (220 cu. in.)
Bore/Stroke: ?/?mm
Compression ratio: ? : 1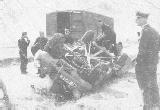 Legth: 178 in., Width: 74 in., Height: 73 in.
Wheelbase: 112 in., road clearance: ? in.
Gearbox: 4-speed + 1 back
Clutch: ?
Differential ratio: ? : 1
Hydraulic brakes
Transversal leaf-spring suspension
Electrics: ? Volt
Weight: 3810 lb.
Tyre size: 9,00-13 in.
Fuel consumption: ? L/100km
Fuel tank capacity: ? L
Maximal speed: ? km/h

Photos are from:
Bohdan Bobrowski, Gdansk, Poland (Strona domowa Bohdana Bobrowskiego).
On the upper photo - Jan Bobrowski and his truck (Saloniki, Greece, about 1943).
Second photo - the same truck. Jan Bobrowski was a driver of some hauptmann in WWII in Greece. This hauptmann died in this truck in accident caused by himself in 1944. He was completely drunk when he ordered his driver to teach him driving. This photo is from investigation after the accident.
Data are from:
Bart Vanderveen, "Historic Military Vehicles Directory", "After the Battle" publication, 1989.
---
You are welcome to add, ask or correct me, my E-mail is Contact. Andrei Bogomolov.
---
Entrance   Gallery   Trucks   Ford   British Ford   Sale   Links
---
Last updated 20 I 2002.