Oldtimer picture gallery. Trucks. Sd. Kfz. 9 (s. Zgkw. 18 to). Typ F3.
Parentage firm: Famo, Breslau, Germany (Wrocław, Poland),
then also Warschau, General-Gouvernement (Warszawa, Poland).
Co-producers: Tatra, Vomag.
---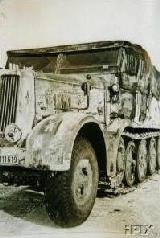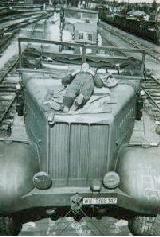 Sd. Kfz. 9 (Sonder-Kraftfahrzeug 9);
s. Zgkw. 18 to (schwere Zugkraftwagen 18 ton)

(Data for Famo F3 Sd. Kfz. 9 with cargo platform)
Years of production: 1939-1945
(1939-1944 (Famo), 19??-19?? (Tatra), 1940-1944 (Vomag)).
Overall production: about 2500 units
By years: 1939: ?; 1940: 240; 1941: 240; 1942: 384; 1943: 643;
1944: 834; 1945: 90
8-seater half-track heavy tractor, often with Sd. Anhanger 116 (special
trailer) for tank transport
Modifications:
Sd. Kfz. 9 - heavy tractor for tank salvage and trailer towing
Sd. Kfz. 9/1 - 6-ton Bilstein crane
Sd. Kfz. 9/2 - 10-ton crane
Sd. Kfz. ? - 8,8-cm anti-aircraft gun Flak 37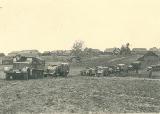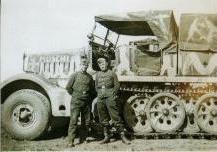 Length: 8250mm, width: 2600mm, height: 2850mm
Road clearance: 440mm
Front wheel track: 2100mm; toe-in: ? mm; camber: ?o; caster: ?o
Rear track: 2000mm
Chain: length: 12220mm; width: 440mm,
driving front sprockets
47 steel 260-mm elements with rubber in every chain, on 1+6+1 wheels (these 6 in chess order)
Turning radius: 10,8 m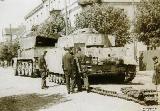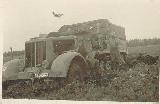 Engine: carburetter Maybach HL 108 TUKRM 250hp/2600rpm,
watercooled V12-cyl. slope valve OHC 4-stroke, 10830cc
Bore/Stroke: 100/115 mm
Pistons type and material: ?
Compression ratio: 6,5 : 1
Carburettor: one offroad two-stage Solex 40 IFF II
Carburettor data: ?
Electrics: 12V, 2 batteries capacity - 105 A*h every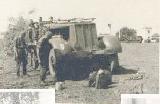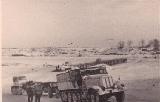 Generator type and power: ?; 300W
Starter type and power: ?, 4 hp
Spark plugs type: ?; ?mm; electrode clearance: ? mm
Clutch: dry twin plate
Gearbox: (4 forward, 1 back speeds) x 2 speeds of auxilliary box
Ratios: ?
Frame: U-profile
Front suspension: transversal leaf springs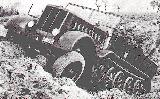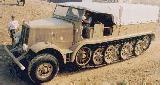 Rear suspension: torsion bars
Air brakes plus mechanical steering brakes, on chain front sprockets
Weight: 15200kg + 2800kg load; trailer weight: 18000 kg
Maximal speed: 50 km/h
Tyres: 12,75-20 inches, offroad
Tyre pressures (atmospheres): ?
Fuel tank capacity: 230 + 60 Ltr.
Petrol consumption: 120 Ltr/100km (highway), 270 Ltr/100km (offroad)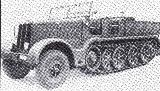 Cooling system capacity: ? Ltr.
Gearbox oil carter capacity: ? L
Ford depth: 800mm

Photos and data are from:
Werner Oswald "Kraftfahrzeuge und Panzer der Reichwehr,Wehrmacht und Bundeswehr", 1982,
Motorbuch Verlag Stuttgart.
eBay Deutschland.
Igor Guzienko (Kiev).
Bart Vanderveen's book "Historic Military Vehicles Directory", "After the Battle" publication, 1989.
"Wheels & Tracks" magazine (number 69) by Bart Vandreveen.
This survived and restored F3 is from the Wheatcroft Collection.
Thanks for help to Jan Szatan, Poland (homepage).
---
You are welcome to write me by E-mail Contact. Andrei Bogomolov.
---
Entrance   Gallery   Trucks   Sale   Links

Famo   Tatra   Vomag
---
Last updated 3 III 2003.