Oldtimer picture gallery. Motorcycles. D-Rad R0/4.
---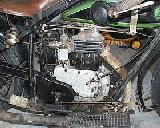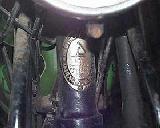 D-Rad R0/4


Years of production: 1924 - 1927
Overall production: 25500
(including D-Rad R1/4)
Prices (1925 year):
Version EZ (with starter Bosch and
Bosch electric headlight): 1450 RM;
Version K (with magneto Siemens, Mea or Bosch and carbid headlight): 1250 RM
Version EZ with sidecar: 1825 RM;
Engine: 8hp/3800rpm, sidevalve 1-cyl 4-stroke aircooled 496cc
Bore/Stroke: 82/94 mm
Compression ratio: 5,0 : 1
Dimensions (solo): length: ?mm, width: ?mm, height: ?mm, saddle height: ?cm
Dimensions (gespann, with sidecar): length: ?mm, width: ?mm, height: ?mm
Wheelbase: ?mm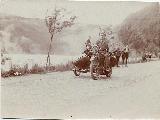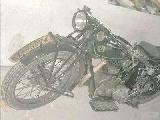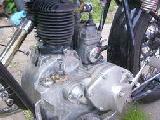 Rear track (gespann, sidecar version):
?mm
Road clearance (solo): ?mm
Road clearance (sidecar): ?mm
Carburetter: Sum NHW
(from 1927 - Sum K3(?))
Starter (EZ): ? Watt
Spark plug: W95, 18mm
Clutch: steel lamel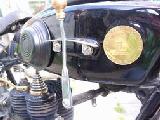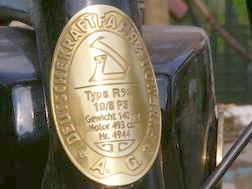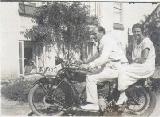 Gearbox: 3-speed, hand control,
one block motor+gearbox
Ratios:
I - ?; II - ?; III - ?
Chain
Transmission ratio: ?
Frame: twin low tubes, one upper tube
Front fork with 1/4-elliptic leaf spring
Rear wheel without dampers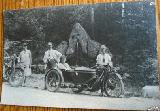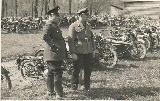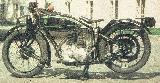 Front brake: drum (from 1927 - larger
diameter and inner expansion)
Rear brake: wooden wedge
Weight (solo): 140 kg,
gross weight - 320 kg
Maximal speed: 90 km/h (solo);
Tyres: 27 x 3,50 or 26 x 3,00 inches
Tyre pressures, atm.: front - ?; rear - ?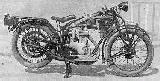 Fuel tank capacity: ? Ltr.
Fuel consumption: 4...4,5 Ltr/100km
Frame numbers: 7501...33000.

Photos are from:
eBay Deutschland,
Euromobiles.de,
Mobile.de,
Motorrad Markt magazine, Germany,
"Svet Motoru" magazine, Czechoslovakia.
Thanks a lot to Martin Schenker from Berlin for kind permission to use materials from his My old motorcycles site. This nice 1929 sample on big picture is R0/4 of Martin.
---
Entrance   Gallery   Motorcycles   D-Rad   Sale   Links
---
Last updated 15 VI 2005. Andrei Bogomolov. Contact Information.