Oldtimer picture gallery. Trucks. Canadian Military Pattern (CMP).
Chevrolet C60X.
---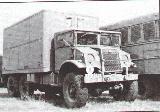 Canadian Military Pattern, 6x6, Chevrolet GM 8660 (C60X)

(data for Chevrolet 8660/C60X if not written)
Years of production: 1942-1944
Overall production: 2710
60-cwt (about 3-ton) 6x6 truck
Body types: van, machinery, 9 types
Length: 20 ft 4 in ... 20 ft 5 in; width: 7 ft 5 in; height: 10 ft 4 in ... 10 ft 6 in
Wheelbase: 160 in., rear bogie - 52 in.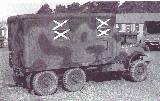 Road clearance: 11 in.
Front wheel track: 5 ft. 81/2 in.
Rear track: 5 ft. 9 in.
Turning radius: ? m
Engine:
GMC 270: carburetter 100hp/2750rpm, watercooled straight 6-cyl. OHV 4-stroke, 269,5 cu. in.
Bore/Stroke: 325/32 / 4 in.; compression ratio: ? : 1
Carburettor: ?
Electrics: 6 Volt, battery capacity - ? A*h
Clutch: dry single plate
Gearbox: 4 forward + 1 back, 2-speed transfer box
Ratios: ?
Front suspension: leaf springs
Rear suspension: inverted leaf springs
Hydraulic brakes with vacuum assistance
Weight: 15960 lb
Maximal speed: ?
Tyres: 10,50x20 inches, offroad
Tyre pressures (atmospheres):?
Fuel tank capacity: ?
Petrol consumption: ?
Canadian built military trucks by British design requirements.
Cabs: only Nr.13 (since 1942, hard top, "reverse" sloped windscreen).
Supplied to Australia and USSR as machinery trucks by Lend-Lease agreement.

Photos and data are from:
Bart Vanderveen's book "Historic Military Vehicles Directory", "After the Battle" publication, 1989.
John Blackman "WW2 Allied Vehicles".
Bellona Handbook N:o 3, Part 1.
Bellona Military Vehicle Data N:o 13.
Jan Szatan, Poland (Klasyczne Pojazdy Terenowe Panstw Socjalistycznych).
eBay Deutschland.
"Wheels & Tracks" magazine.
Thanks for help to Liucijus Suslavičius (Vilnius), automobile historian and author of numerous publications.
---
Entrance   Gallery   Trucks   Chevrolet   Sale   Links
---
Last updated 10 IV 2003. Andrei Bogomolov. Contact Information.