Oldtimer picture gallery. Trucks. Büssing-NAG G31.
---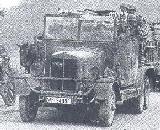 Büssing-NAG G31


Years of production: 1931-1935
Overall production: 2300
6x4 1,5-ton truck (2 rear axles drive)
Modifications:
Kfz. ? - cargo (Pritschenwagen)
Kfz. 61 - phone lines building and repair, antenne, phone recorder or amplifier vehicle
Kfz. 62 - phone lines building and repair, antenne, meteorology, publishing, sound listening, sound or light definition vehicle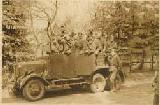 Kfz. 63 - measurments point or warning service vehicle
Kfz. 64 - topography equipment vehicle
Kfz. 76 - observation vehicle
Kfz. 77 - phone lines vehicle, similar to Kfz. 63
Dimensions:
Pritschenwagen (cargo): length: 5350mm, width: 2250mm, height: 2350mm
Kastenwagen (box van): length: 5700mm, width: 2000mm, height: 2760mm
Fernsprechbauwagen oder Messstellen-Kfz. (phone line builder or measurement):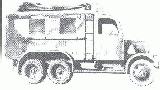 length: 5750mm, width: 2220mm, height: 2350mm
Wheelbase: 2715 + 950 mm
Road clearance: 225mm
Front wheel track: 1535mm; toe-in: ? mm; camber: ?o; caster: ?o
Rear track: inner wheels: 1372mm; outer wheels: 1812mm
Turning radius: 8 m
Engine: carburetter Büssing-NAG G 65hp/2500rpm, straight 4-cyl. OHV 4-stroke, 3920cc
Bore/Stroke: 98/130 mm
Pistons type and material: ?
Compression ratio: 5,1 : 1
Carburettor: one Solex VFSL 40
Carburettor data: ?
Water pump motor cooling
Electrics: 12V, battery capacity - 105 A*h
Generator type and power: ?; 130W
Starter type and power: ?, 1,8 hp
Spark plugs type: ?; ?mm; electrode clearance: ? mm
Clutch: dry twin plate
Clutch pedal clearance: ?mm
Gearbox: 3 forward, 1 back, 2-speed transfer box
Ratios: I - 8,2; II - 5,4; III - 3,53; IV - 2,28; V - 1,49; VI - 1,02, VII - 1,00, rear - ?
2-speed transfer box
Differential ratio: 6,25 : 1
Frame: U-profile
Front suspension: leaf springs
Rear suspension: leaf springs
Hydraulic brakes on all wheels
Mechanic hand brakes on 4 rear wheels
Weights:
Pritschenwagen: own: 3100kg, gross: 4600kg
Fernsprechbauwagen: own: 3300kg, gross: 4915kg
A-Wagen (sound listener): own: 3750kg, gross: 5470kg
Maximal speed: 60 km/h
Tyres: 6,00-20 inches, offroad, twin wheels on rear axles
Tyre pressures (atmospheres): ?
Fuel tank capacity: 75 + 50 Ltr.
Petrol consumption: 35 Ltr/100km (highway), 45 Ltr/100km (offroad)
Cooling system capacity: ? Ltr.
Gearbox oil carter capacity: ? Ltr.
Ford depth: 500mm

Photos and data are from:
Werner Oswald "Kraftfahrzeuge und Panzer der Reichwehr,Wehrmacht und Bundeswehr", 1982, Motorbuch Verlag Stuttgart.
eBay Deutschland.
Bart Vanderveen's book "Historic Military Vehicles Directory", "After the Battle" publication, 1989.
Reinhard Frank's book "Lastkraftwagen der Wehrmacht", PODZUN-PALLAS, 1992.
---
You are welcome to write me by E-mail Contact. Andrei Bogomolov.
---
Entrance   Gallery   Trucks   Büssing-NAG   Sale   Links
---
Last updated 6 II 2003.