Oldtimer picture gallery. Trucks. LAZ-695.
---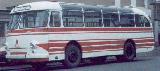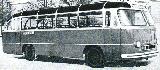 LAZ-695

(data for 1957 LAZ-695)
Years of production: 1957 - 1958 (695), 1958-1964 (695B, with rear roof air tube), 1961-1970 (695E, with V8 engine), 1965-1970 (695Zh, with hydrotransformer), 1970 - 1976 - 1980's (695M and 695N)
Overall amount: ? units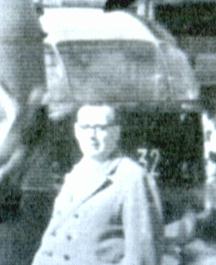 4x2 32-seater/55-passenger bus
Engine: ZiL-158L: 109hp/2800rpm, 6-cyl, 5555cc (ZiL-130: 150hp/3200rpm, V8-cyl, 5966cc in LAZ-695E and 695Zh)
Bore/Stroke: 101.6/114.3 mm (100/95 mm in LAZ-695E and 695Zh)
Length: 9220mm, width: 2500mm, height: 3050mm
Wheelbase: 4200mm (4190mm - LAZ-695Zh), rear axis clearance: ?mm
Front wheel track: ?mm
Rear track: 2076mm (2116mm - LAZ-695Zh)
Turning radius on front outer wheel: ? m
Compression ratio: ?
Gearbox: 5 speeds (2speeds with hydrotransformer in LAZ-695Zh)
Weight (without load): 6500 kg (6330 kg - LAZ-695E, 6223 kg - LAZ-695Zh)
Maximal speed (loaded, highway): 65 km/h (75km/h - LAZ-695E and 695Zh)
Tyres: ? inches
Fuel capacity: ? L
Fuel consumption: 41 L/100km (40 L/100km - LAZ-695Zh)
This LAZ-695E is property of GK "Mosgortrans". Thanks to Alexander Andryushin for the image.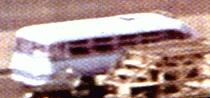 Experimental LAZ-695 (similar to first series 1957-1958 busses) is from 1957 "Ogonyok" magazine.
---
You are welcome to write me by E-mail Contact. Andrei Bogomolov.
---
Entrance   Gallery   LAZ trucks   Sale   Links
---
Last updated 11 X 1998.