Oldtimer picture gallery. Motorcycles. L-600.
---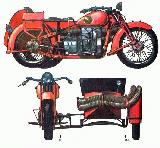 L-600 fire motorcycle


Years of production: 1934-1939, prototype in 1932
Overall production: ?, no one survived example is known.
Engine: 12hp/2800rpm, 2-cyl, ?-stroke 600cc
Bore/Stroke: 74/68 mm
Compression ratio: 5,5 : 1
Length: 2800mm, width: ?mm, height: ?mm, saddlehight: ?mm
Wheelbase: 1600mm, clearance: 145mm
Track: 1375mm
Clutch: dry single plate
Gearbox: ? speeds
Weight: 850 kg
Maximal speed: 70 km/h
Tyres: 2.75x19 inches
Fuel tank capacity: 20 L
Fuel consumption: 10 L/100km (highway), 5,5 L/h for water pump (700 L of water/min, pressure - 5 L/atm))
Special fire motorcycle with water pump working from main engine and mounted in sidecar. Switching to water pump by special lever.
This 33k drawing by Mihail Petrovsky and data are from the article of Oleg V. Kurihin (Moscow Polytechnical Museum) in "Tehnika Molodyozhi" magazine, 1989, Russia. (Russian text of the article).
Thanks for help to Anton Didenko from "Tehnika Molodyozhi" Publishing house, Moscow.
---
You are welcome to write me by E-mail Contact. Andrei Bogomolov.
---
Entrance   GALLERY   L motorcycles   Motorcycles   Sale   Links
---
Last updated 19 IX 2000.