Oldtimers gallery >> Trucks >> Hansa-Lloyd Merkur.
---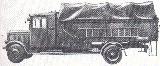 Hansa-Lloyd Merkur

(data for Typ IIID with diesel motor Klöckner-Humboldt-Deutz (Magirus) KHD F6M313)
Years of production: 193? - 1935 - 193?
4x2 ?-ton medium truck
Overall production: ?
Engine: Klöckner-Humboldt-Deutz (Magirus) KHD F6M313 75hp/?rpm, 6-cyl. diesel, 6126cm3


Bore/Stroke: ?/? mm
Dimensions (cargo):
Length: 6870mm, width: 2250mm, height: 2600mm
Wheelbase: 4500mm, road clearance: ?mm
Transmission: 4 (+ 1 rear) gears
Hydraulic brakes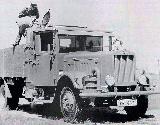 Leaf-spring suspension
Weight: 4100kg (cargo)
Maximal speed: ? km/h
Tyre size: 8,00-20 inches
Fuel tank capacity: ? L
Fuel consumption: ? L/100km

Hansa-Lloyd Merkur trucks, which got into the German army, were used mainly for the construction of telephone/telegraph
lines. Chassis was commercially available. (Bart Vanderveen)

Sources of data and photos:
Reinhard Frank "Lastkraftwagen der Wehrmacht", PODZUN-PALLAS, 1992.
Bart Vanderveen "Historic Military Vehicles Directory", "After the Battle" publication, 1989.
---
You are welcome to write me by E-mail Contact. Andrei Bogomolov.
---

Entrance   GALLERY   Hansa-Lloyd trucks   List of truck makes   Sale   Links
---
Last updated 31 V 2000.