Oldtimer picture gallery. Trucks. GMC CCKW-353 and 352.
---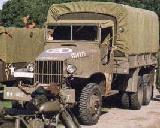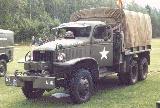 GMC CCKW-353

(data for 6x6 long wheelbase 353 model, 352 - short wheelbase model)
Years of production: 1941-1945
6x6 or 6x4 2500kg truck
Overall production: over 600000 examples of 6x6 and almost 25000 6x4 GMC in 1941-1945
Engine: 90hp/2750rpm, 6-cyl OHV, 4420cc (269,5 cu.in.)
Bore/Stroke: 325/32 / 4 in.
Length: 6928mm, width: 2235mm, height: 2200mm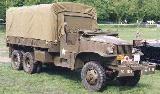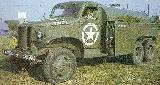 Road clearance: 10 in.
Wheelbase: 164 in. (353), 145 in. (352), rear bogie - 44 in.
Gearbox: 5-speed overdrive style, 2-speed transfer case
Weight: 5420 kg
Maximal speed: 72 km/h
Tyres: 7,50-20 inches
Fuel capacity: for 400 km (40 gallon)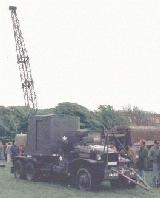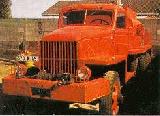 Fuel consumption: roughly 4...5 miles per gallon.
All color images of non-tank trucks are from Militär Fordons Historiska Föreningen, Sweden. Upper hard-top 1940 GMC CCKWX-353 belongs to Ulf Sander, Sweden.
Black and white image of 6x4 GMC CCW353 is from Leonid Gogolev's article in "Signal" magazine, 05/1993, Ukraine.
These vehicles have been produced in 6x6 and 6x4, hard and soft cabins, with- and without winch, long (353) and short (352) wheelbase, there were also amphibious DUKW-353.
Thanks for help to Rob Olsen, owner of CCKW 353. If you have any question concerning GMC CCKW, you are welcome to ask Rob.
---
You are welcome to write me by E-mail Contact. Andrei Bogomolov.
---
Entrance   Gallery   GMC trucks   Sale   Links
---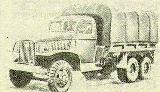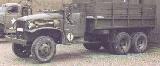 Last updated 26 IX 1999.