Oldtimer picture gallery. Cars. GAZ-67.
---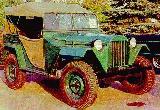 GAZ-67 and 67B


Years of production: GAZ-64-416: VIII 1941 - late 1942; GAZ-67: 23 IX 1943 - 1944; GAZ-67B 1944 - autumn 1953.
Produced 684 GAZ-64 and 92843 GAZ-67 (only 4851 in 1943-1945).
4x4, 4-seater phaeton.
Engine: 54hp/2800rpm, 4-cyl 4-stroke, 3.28 L
Bore/Stroke: 98.43/107.95 mm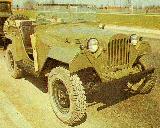 Length: 3350mm, width: 1685mm, height: 1700mm
Wheelbase: 2100mm, clearance: 210mm
Gearbox: 4 speeds x 2 axles
Weight: 1320 kg
Maximal speed: 90 km/h
Tyres: 7.00-16 inches
Fuel tank capacity: 70 L
Fuel consumption: 15.0 L/100km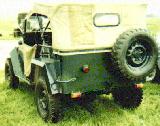 First 29k picture is GAZ-67B with in-war produced grill (with grill of welded poles), second car is post-war version (grill of one metal sheet).
This car was created in very short time. GAZ-64 had primitive front wings and hadn't rear ones (similar to Willys). GAZ-67B differs from GAZ-67 by more wide wheeltrack - 1445mm instead of 1250mm of GAZ-67. I heard that people have called it Ivan-Willys and HBW (Hochu byt' Willysom, Want to be Willys). There are still a lot of these cars in former Soviet Union, but I'd relate this model to post-war ones, because about 95 % of GAZ-67 are of 1946-1953 production.
There were different modifications of GAZ-67: Hard-top GAZ-67-420 (only in 1944), amphibia GAZ-011 (1951-1953), street cleaner, fire automobile and so on.
One by one almost all GAZ-67 got into private hands, and their new owners usually rebuit them into handmade hard-tops (prevailingly of terrible design), so now it's quite difficult to find original car.
---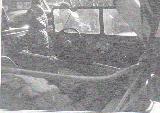 What else in the net:
Scanned book (in pdf-format): Avtomobil GAZ-67. Brief manual. Moscow, 1948. 76 pages. Scanned and put to the net by Alexander Medentsev (Moscow). Thank you too much, Alexander!
And from here: you can download Acrobat Reader software to read pdf-files.
---
You are welcome to write me by E-mail Contact. Andrei Bogomolov.
---

Entrance   Gallery   GAZ cars   Sale   Links
---
Last updated 21 VI 1999.