Oldtimer picture gallery. Trucks. Ford G917T, G987T, G997T.
---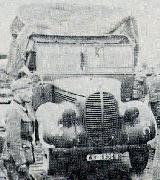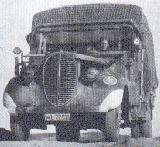 Ford G917T St III a, G987T, G997T St III b (G - Germany, 9 - model year 1939, 1 - 3,6-L motor (9 - 3,9 L; 8 - 3,2 L/), 7 - model number, T - truck)


Years of production: 1939-1942? (G987T), 1939-1941 (G917T), 1941-1942 (G997T)
4x2 3-ton cargo truck, special van and other modifications
Overall production: 19158 (G917T) + 6041(G997T) +? (G987T)
Engines:
G917T: 90hp/3800rpm, V8-cyl (90o) carburettor engine, 3613cc
Bore/Stroke: 77,8/95,25 mm, compression ratio: 1 : 6,25, 3 bearings crankshaft, 2 waterpumps
G997T: 95hp/3500rpm, V8-cyl (90o) carburettor engine, 3924cc
Bore/Stroke: 81/95,25 mm, compression ratio: 1 : 5,9, 3 bearings crankshaft, 2 waterpumps
G987T: BB engine 52hp/?rpm, 4-cyl carburettor engine, 3,2 L
Bore/Stroke: ?/? mm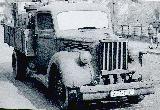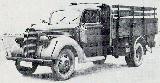 Length: 6220mm, width: 2240mm, height: 2200mm
Clearance: 250mm; wheelbase: 3988mm
Front wheel track: 1475mm
Cargo platform dimensions: 2600 x 2100 mm
Turning radius: 9,5 m
Double downstream carburettor Solex 30 FFIK
Gearbox: 4 speeds
Ratios: I - 6,40, II - 3,09, III - 1,69, IV - 1,00, rear - ?
Differential ratio: 6,66
U-profile frame
Clutch: dry single plate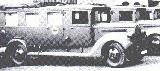 Battery: 12 Volt 50 Ah
Brakes: hydraulic, 4 wheels, handbrakes - steel cable to rear wheels
Weight: 2700 kg, overall weight (loaded)- 5700 kg
Maximal speed: 80 km/h
Tyres: Offroad 7,25-20 inches, twin rear wheels
Fuel tank capacity: 105 L
Fuel consumption: 32 L/100km (offroad - 45 L/100km)
Ford passing height: 630 mm
This model was patterned from USA 1938 Ford. But main outer difference of German Ford is one-piece windscreen.
Central vertical bar of the grille of German Ford has equal thickness everywhere, US Ford has more thick upper part of it.
Some trucks were fitted by Imbert gas producers. Ford G917T and G997T have gas cooler in front of the grille,
G987T carried such unit under the motor division. Diameter of the gas producer 550mm (placed in cargo box behind the cab).
Few examples of Sanitätskraftwagen Kfz.31 were built by bodymaker company "Christian Miesen", with longer wheelbase
and single rear wheels.
Photos are from:
Werner Oswald's "Kraftfahrzeuge und Panzer der Reichwehr,Wehrmacht und Bundeswehr", 1982, Motorbuch Verlag Stuttgart,
Reinhard Frank's "Lastkraftwagen Der Wehrmacht", PODZUN-PALLAS, 1992.
---
If you have to add, ask or correct me, you are welcome to write me by E-mail Contact. Andrei Bogomolov.
---
Entrance   GALLERY   Ford trucks (DE)   Sale   Links
---
Last updated 28 I 2000.