Oldtimer picture gallery. Trucks. Ford-6.
---
Ford-6

(data for G8T - in parentheses)
Years of production: 1941(2G8T) - 1942(G8T) - at least 1947
4x2 2-ton truck
Engine: 90hp/3300rpm, 6-cyl, 3700cc
Length: 6470mm, width: 2220(2210)mm, height: 2240(2060)mm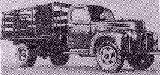 Wheelbase: 4010mm, clearance: 247mm
Front wheel track: 1475mm
Rear track: 1655mm
Turning radius: 9.3m (right turn, on front outer wheel track)
Bore/Stroke: 83.82/111.76 mm
Compression ratio: 6.7:1
Clutch: dry single plate
Gearbox: 4 speeds
Differential ratio: ?, pair of bevel gears with spiral tooth
Weight: 2620(3030) kg
Maximal speed: 81.5(77) km/h
Tyres: 7.50-20 inches
Fuel tank capacity: 75 L (G8T has additional 114 L tank)
Fuel consumption: 23 L/100km
If you know anything of this truck survived in Russia, please let me know.
---
The platform of the truck was either metal (2G8T) or wooden (G8T). G8T was supplied with tow hooks and protection cramps on headlights. They have been shipped both as whole units and as containers with assembly set. Main delivery way of lend-lease goods were heroic Polar Seas convoys, consisting of ships under different flags of anti-Hitler coalition. Later on there was also an attempt to deliver them by self-running from Indian Ocean via Iran.
One of the trucks, produced 12 VI 1943, was destroyed for scrap metal in Kalinin few years ago (was it the last in Russia?) . We couldn't save it.
Upper 24k picture is from L.Gogolev book "The cars on military service" (unexact translation).
Second 53k b/w photo is from Liucijus Suslavicius book.
---
You are welcome to write me by E-mail Contact. Andrei Bogomolov.
---
Entrance   GALLERY   Ford trucks   Sale   Links
---
Last updated 24 I 1999.