Oldtimer picture gallery. Cars. DKW F8.
---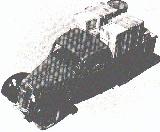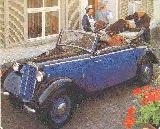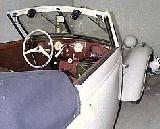 DKW F8 Reichsklasse, Meisterklasse, Luxus, Export ausfürung

(Data for Meisterklasse limousine, Reichsklasse data are in parentheses)
Years of production: II 1939 - 1942 (+ 1948 - 1955 under IFA trademark)
Overall production: 49605 units
Body types: 2-door limousines (more often), cabriolet, sport-cabriolet, 2-seater sports, cabriolimousine, van, pickup.
This is front wheel drive car.
Engine: DKW-CA-600 (DKW-C-600) 20hp (18hp) / 3500rpm, straight 2-cyl 2-stroke, 689cc (585cc)
Length: 4000mm (3900mm), width: 1480mm, height: 1480mm
Wheelbase: 2600mm, road clearance: 190mm (205mm)
Front wheel track: 1190mm; toe-in: 1-3 mm; camber: 2o; caster: 0o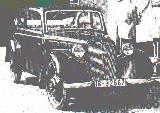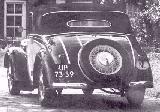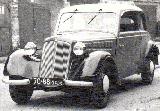 Rear track: 1250mm
Turning radius (by outer front wheel): 5,5 m
Bore/Stroke: 76/76 mm (74/68 mm)
Pistons type and material: KS, Aluminium alloy, without deflector
Compression ratio: 5,9 : 1
Carburettor: Solex, horizontal, 30 BFLH
Dimensions (in mm and conditional units): diffusor - 23mm; main jet - 105/58cu; idling jet - 0,45mm
Ignition system: battery, dynostart, Auto-Union, 6V, battery capacity - 60-62 A*h (45-50 A*h)
Generator type and power: ?; 150W
Spark plugs type: Bosch, DM 175 TI or Beru 195/aI; 18mm; electrode clearance: 0,6 mm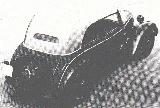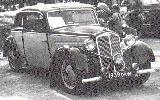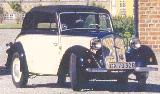 Clutch: DKW, dry multiple plate, moistured by oil
Clutch pedal clearance: 25-30mm
Gearbox: DKW-HG, 3-speed (on Meisterklasse - with free passing mechanism)
Ratios: I - 3,15; II - 1,69; III - 1,00, rear - 4,78
Differential ratio: 3,05, cylindrical gear with spiral tooth
Front suspension: independent
Rear suspension: whole axis with high transversal semielliptical leaf-spring
Mechanical all-wheels shoe brakes
Weight: 750kg (700kg) (Luxus Cabriolet - 780kg)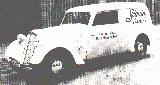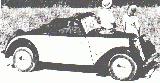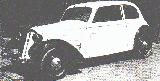 Maximal speed: 85-90 (80-85) km/h (Luxus Cabriolet - 85 km/h)
Tyres: 5,00-16 inches (Luxus model has spoke wheels of larger size)
Tyre pressures (atmospheres):
Front - 1,50 (2- and 4-seater Meisterklasse
with 2 passengers), 1,60 (4-seater
Meisterklasse with 4 passengers, Luxus
with 2 passengers), 1,75 (Reichsklasse, Luxus with 4 passengers)
Rear - 1,30 (Meisterklasse with 2 passengers), 1,50 (4-seater Reichsklasse/Luxus with 2 passengers), 1,60 (2-seater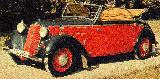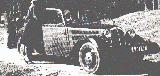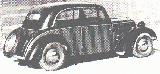 Reichsklasse/Luxus with 2 passengers),
2,00 (4-seater Reichsklasse/Meisterklasse
with 4 passengers), 2,25 (4-seater Luxus
with 4 passengers)
Fuel tank capacity: 32+1,5 L
Petrol consumption: 7,0 - 7,4 (6 - 7,2) L/100km (Luxus Cabriolet - 8 L/100km); oil consumption: 0,3 L/100km
Cooling system capacity: 8,0 L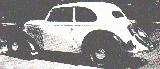 Gearbox + differential oil carter capacity - 2,25 L
Price: ?
Meisterklasse has central oiling system and both bumpers. Reichsklasse has only front bumper
Luxus is Meisterklasse with spoke wheels and luxury interior, Luxus and Export models have more metal body parts, which are wooden on Meisterklasse and Reichsklasse.
Photos are from:
Peter Kirchberg, "Bildatlas Auto Union", Berlin, 1987.
Jan de Vries (the Netherlands), this Luxus-Cabriolet (UP 73-59) is former car of Jan.
Denis Orlov, automobile historian and journalist, Moscow.
Teddy Dideriksen (Danmark), owner of this Cabriolimousine.
"Svet Motoru" magazine, Czechoslovakia.
mobile.de.
Most part of information is from Yu.A.Halfan's book:"Description of foreign firms cars construction", Moscow, 1948.
What else in the net:
DKW F8L 700 Baujahr 1939 (Bauer Sonderkarosserie) (in German) - homepage of Günther Juris, Germany.
---
You are welcome to write me by E-mail Contact. Andrei Bogomolov.
---
Entrance   Gallery   Cars   DKW   Sale   Links
---
Last updated 18 XII 2000.