Oldtimer picture gallery. Trucks. Brockway 666.
---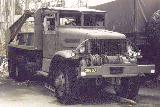 Brockway B666 and C666 (coproduced by White, Corbitt, FWD and Ward La France)


Years of production: 1942 - 1945
6x6 6-ton truck with metal or wooden body, with hard- or soft-top cab, with 12,5-ton winch
Overall production: over 21000 units of all types (including 3075 bridge erectors and 1338 revolving Quick-Way cranes)
Engine: Hercules HXD 202hp/2150rpm, petrol 6-cyl SV, 855 cu.in.
Bore/Stroke: ?/? mm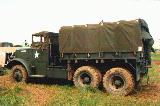 Dimensions:
B666 Daybrook M-II-A bridge erector: length: 370 in., width: 100 in., height: 103 in., weight: 26500 lb, about 13 tons
C666 Quick-Way revolving crane: length: 408 in., width: 100 in., height: 136 in., weight: 35275 lb, about 18 tons
Wheelbase: 220'' (B666), 197" (C666); rear axles - 52"
Road clearance: 10 inches
Electrics: 6 Volt (starter - 12 Volt)
Gearbox: 4 speeds + 1 rear, 2-speed transfer box with front axle declutch.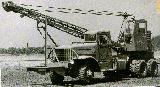 Clutch: dry single plate
Axles gear ratio: 7,33:1 double reduction
Air brakes
Liquid cooling
Front axle: rigid with semi-elliptic leaf springs
Rear axle: rigid with inverted semi-elliptic leaf springs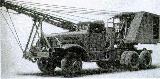 Maximal speed: 35 mph
Tyres: 10,00-20 inches
Fuel tank capacity: 80 gallon
Fuel consumption: up to 75 Ltr./100km
Images are from Jan Szatan and from Militär Fordons Historiska Föreningen, Sweden.
Thanks for help to Liucijus Suslavičius (Vilnius), automobile historian and author of numerous publications.
---
You are welcome to write me by E-mail Contact. Andrei Bogomolov.
---
Entrance   Gallery   Brockway trucks   Sale   Links
---
Last updated 18 VII 1999.