Oldtimer picture gallery. Cars. BMW-326.
---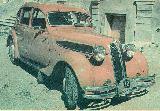 BMW-326

(data for limousine)
Years of production: 1936 - 1941
Overall production: 15949 units
4x2 4-5 seat, 4-door 6-light limousine (usually), 4-seat (or rarely 2-seat) cabriolet
Engine: 50hp/3750rpm, 6-cyl 4-stroke OHV, 1971cc
Length: 4600mm, width: 1600mm, height: 1600mm
Wheelbase: 2870mm, clearance: 220mm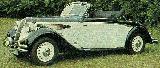 Front wheel track: 1300mm; toe-in: 0-2mm; camber: 1degree; caster: 0degree30' - 1degree30'
Rear track: 1400mm
Turning radius: 6.0m
Bore/Stroke: 66/96 mm
Pistons type and material: MEC, aluminium alloy LegEC-124
Cold clearance between tappet and valve stem: intake - 0.3mm, exhaust - 0.3mm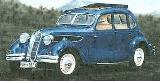 Compression ratio: 6:1
2 carburettors Solex, vertical
Dimensions: diffusor - 20mm; main jet - 100/56 in conditional units; idling jet - 0.45mm
Ignition system: battery (Bosch, 6V), battery capacity - 77 A*h
Interrupter-distributor type: VE6/AS-174; contact clearance: 0.4 mm, rotor turns clockwise
Generator type and power: RG90/6 1500RST
Starter type and power: BCG0.5/6 RS28; 0.5hp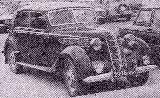 Spark plugs type: DM175/1; 18mm; electrode clearance: 0.6 - 0.7 mm
Cylinder work order: 1-5-3-6-2-4
Clutch: dry single plate
Clutch pedal clearance: 20-30mm
Gearbox (by Hurt or Zahnradfabrik): 4 speeds
Ratios: I - (3.85/3.62/3.75), II - (2.38/2.52/2.28), III - (1.54/1.51/1.54), IV - (1/1/1), rear - (3.44/3.67/4.02)
Differential ratio: 4.875, bevel gear with spiral tooth
Front suspension: independent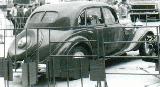 Rear suspension: whole axis on torsion shafrs or on 2 longitudinal semielliptical springs
Hydraulical all-wheels shoe brakes
Normal flexure of ventilator belt: 20mm
Weight: 1100kg
Maximal speed: 115 km/h
Climb: 40 degrees
Tyres: 5.25-17 inches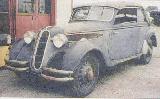 Tyre pressures (atmospheres): front - 1.5, rear - 1.5 - 1.7
Fuel capacity: 60 L
Fuel consumption: 10.2 L/100km
Cooling system capacity: 7.5 L
Oil carter capacity: engine - 3.5 L; gearbox - 1.25 L; differential - 1.00 L

---
First car (74k) is standard limousine, owned by A.Anni from Estonian UNIC club.
Second (92k) picture shows 2-seater sport cabriolet, owned by P.Schwieger from Berlin, image from "Svet Motoru" magazine, Czechoslovakia.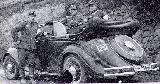 Third 13k image of sunshine (sliding roof) limousine was found in Internet and sent to me by Peter Gruzdev from Sankt-Petersburg, Russia, thanks.
The 4th 57k b/w image of 4-door 4-some cabriolet is taken from Liucijus Suslavicius book.
The last 2 photos of 2-door 4-seater cabriolet are from Classic Car Collection and Reinhard Frank's book "Personenwagen der Wehrmacht", PODZUN-PALLAS.
---
Following BMW-326 parts are needed: steering column, air filter for the carburator, signal lights on-top of the front fenders, three original Jäger gauges: a) oil pressure, b) refrigerator temperature, and c) fuel tank level; then four white balls for the window elevators and two white balls for the door opener, front- and rear bumpers (only double ones), speedometer, and some other staff for the instrument board. If you can offer something, please drop a line to andresin@offampus.es and to manuel.gonzalez@adecco.es, Manuel Gonzalez, Madrid.
---
If you have to add, ask or correct me, you are welcome to write me by E-mail Contact. Andrei Bogomolov.
---
Entrance   Gallery   BMW cars   Sale   Links
---
Last updated 16 V 2000.